This is Senate Majority Leader McConnell's statement regarding Congressman Steve King of Iowa (emphasis mine):
"I have no tolerance for such positions and those who espouse these views are not supporters of American ideals and freedoms," McConnell said in a written statement to The Washington Post. "Rep. King's statements are unwelcome and unworthy of his elected position. If he doesn't understand why 'white supremacy' is offensive, he should find another line of work."
To answer Senator McConnell's question, perhaps this is why Congressman King doesn't understand why 'white supremacy' is offensive: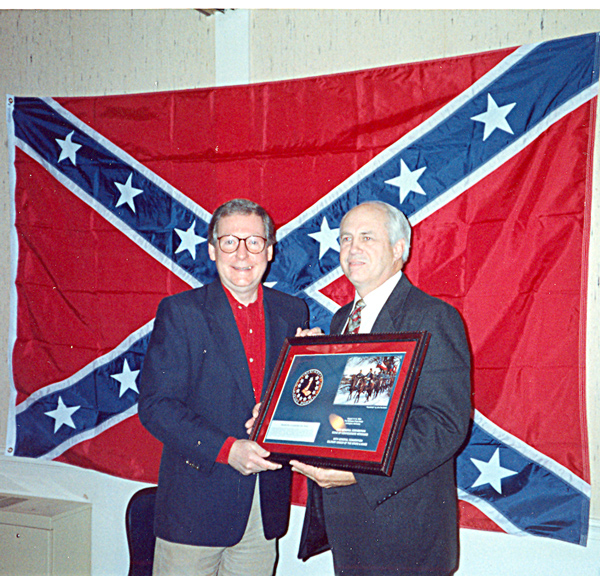 This is a picture of Senator Mitch McConnell receiving an award from the John Hunt Morgan Camp of the Sons of Confederate Veterans taken in the early 1990s at the Big Springs Country Club in Louisville, Kentucky. The picture is posted on the blog of an unrepentant neo-Confederate who posted it to call Senator McConnell out for his hypocrisy (I recommend not clicking across!). Also, it is nice to see people so enthusiastic about the Confederate Navy that they fly the 2nd Confederate naval jack!
I know a lot of folks have been speculating about what Senator McConnell will or won't do in regard to the shutdown, the President's desire to pull out of NATO, the President's hiding the nature, details, and any agreements reached in his conversations with Putin, the President's tariffs and trade wars, etc. The simple reality is that Senator McConnell will continue to do what he's been doing every day since January  21, 2009. He'll either make a lachrymose, more in sorrow than in anger speech from his desk on the Senate floor first thing in the morning where he telegraphs the norms he will break, the traditions he'll abandon, and the rules he'll violate regarding whatever issue he's speaking on and providing heartfelt advice to his Democratic colleagues about what they should and shouldn't do or he'll say nothing and just get about breaking those norms, abandoning those traditions, and violating those rules. And he'll do it quietly knowing full well that it will get little to no coverage by the reporters covering politics in DC or back at home in Kentucky. And he'll continue to do it, just as he's done every day since January 21, 2009 when he embarked on a strategy to bring the Republicans back into the majority in the US Senate, because for the past ten years he has paid absolutely no price whatsoever for doing so. Rather he has reaped great rewards. He brought the Republicans back into the majority in the Senate. He kept significant numbers of Federal district and appellate court judgeships open so that a future Republican president could fill them instead of President Obama during whose administration these vacancies came open. He kept a Supreme Court vacancy open so that both a future Republican president could fill it instead of President Obama during whose administration the vacancy occurred and so it could be used as a political weapon during the 2016 presidential and senatorial elections. And he telegraphed during the hearings for Brett Kavanaugh that he's gearing up to leverage another potential Supreme Court vacancy* in 2019 or 2020 as a political weapon in the 2020 presidential and senatorial elections.
As I wrote back in June 2018 in regard to the lamentations of Senators Corker, Flake, and Collins (emphasis mine):
Senate Majority Leader McConnell really isn't a politician or like any politician who has ever served as Senate Majority or Minority Leader. Rather than view him as a politician, it is more appropriate to understand Senator McConnell as an insurgent, albeit a non-violent one. He recognizes no legitimacy but his own. When out of power he'll do whatever is necessary using asymmetric, irregular, and/or unconventional means to achieve power. And once he achieves power he will do whatever he can to achieve his objectives to consolidate his gains as quickly as possible using any means necessary as he believes his actions are self justifying – that his achievement of power justifies his by any means necessary strategy. This is, by the way, the basic argument of the premier Italian fascist (national-syndicalist) theorist Sergio Panunzio, who delineated the fascist theories for the use of political violence and low intensity warfare in the 1920s. As a result, there is no law, rule, tradition, norm, ethic, promise, and/or deal he won't violate or renege on. This also makes him an unreliable interlocutor and makes it impossible to negotiate with him in good faith as he doesn't believe in good faith negotiations.

Since Senators Corker, Flake, and Collins, let alone anyone else, cannot negotiate with Senator McConnell in good faith, because Senator McConnell doesn't do anything in good faith, if they want to get anything done, then they need to rely on their leverage as senators in a very slim Senate majority caucus to force their initiatives through. This means threatening to and/or actually caucusing with the Democrats. The last thing that Senator McConnell wants is to lose control of the Senate. Whether now because of the defections of a pair of his retiring members using it as leverage to achieve their own objectives or in the mid terms because enough voters want a check on the President to override the partisan Republican advantage in this senatorial election cycle. It is why he's ground everything in the chamber other than handling nominations, specifically judicial nominations, to a halt. It is why he doesn't want to do the legally required annual budgetary resolution so he can avoid having his members take tough votes before the midterms. And it is why he's cancelled most of the August recess under the pretense that it is the only way he can move judicial nominees because of what he alleges is Democratic obstruction. Nominations that only exist because he prevented President Obama from seating almost any judicial nominees during his final two years in office. The Democratic minority has no tools to stop these nominations, regardless of what Senator McConnell says because Senator McConnell in conjunction with Senator Grassley has gotten rid of the blue slip rule and refuses to recognize Democratic senators holds on nominees. Senator McConnell's cancellation of the August recess is really just a thinly veiled attempt to keep incumbent Democratic senators up for reelection off the campaign trail. Every Senate rule, tradition, norm, ethic, and even law (Congressional Budget Act) has been bent or stretched to breaking or just outright ignored by Senator McConnell in his quest to consolidate his power and achieve his revanchist and reactionary objectives. As an insurgent, albeit a non-violent one, Senator McConnell only understands and recognizes the application of leverage and force. Senators Corker, Flake, and Collins have the ability to apply significant leverage and force. The question is whether or not they have the will to do so. The sad reality is the answer is almost certainly not.
Senator McConnell's calculus, which has been his calculus since January 2009, is that if he's quiet and boring, even if the political reporters initially cover whatever it is he's doing, they'll soon get bored and chase something more exciting. This will, as it has since January 2009, allow him to successfully achieve whatever he was attempting and that had caught the reporters attention. Or something more exciting will happen and distract them.
Open thread!
* I'm expecting, provided Justice Ginsburg completes her recovery as expected and remains healthy, that the administration in conjunction with Leonard Leo from The Federalist Society and Senator McConnell will try to replicate with Justice Thomas what they did in the summer of 2018 with Justice Kennedy. Specifically, they'll create a retirement and subsequent Supreme Court vacancy during the late summer to early fall of 2020 that the President and Republican senators can campaign for reelection on. Thereby replicating the dynamic that Senator McConnell created and the President leveraged in his campaign that it was necessary to elect him, in this case reelect him, and to reelect the GOP majority in the Senate to ensure that the Democrats don't appoint the next Supreme Court justice, change the balance of the Supreme Court, and destroy the Constitution and thereby the United States.