To retaliate against Speaker Pelosi for taking away his TV time, Trump revealed a previously secret plan for a congressional delegation to a war zone, possibly endangering lives, and has denied Pelosi and other members of congress who were to be part of that delegation permission to use military planes to visit Afghanistan. No, really: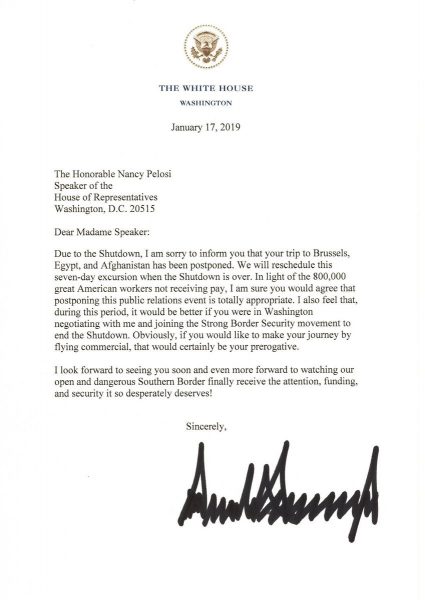 From The Post:
Pelosi was planning to leave for Afghanistan on Thursday afternoon, according to a Democratic aide, but it was unclear whether Pelosi's trip included the other destinations mentioned by Trump. The aide requested anonymity to discuss plans that had not been made public…

Trump didn't explain what authority he has to cancel Pelosi's trip, but it would likely require the use of military aircraft controlled by his administration. He said Pelosi could fly commercial if she wanted to go forward with the visit.
Southwest has a DC-Kabul flight, right? That people use for routine "excursions" to Afghanistan?
Good God, what a petty dickhead.
UPDATE: Pelosi's deputy chief of staff, Drew Hammill, responds via Twitter:
The CODEL to Afghanistan included a required stop in Brussels for pilot rest. In Brussels, the delegation was scheduled to meet with top NATO commanders, U.S. military leaders and key allies–to affirm the United States' ironclad commitment to the NATO alliance.

This weekend visit to Afghanistan did not include a stop in Egypt.

The purpose of the trip was to express appreciation & thanks to our men & women in uniform for their service & dedication, & to obtain critical national security & intelligence briefings from those on the front lines.

The President traveled to Iraq during the Trump Shutdown as did a Republican CODEL led by Rep. Zeldin.
Pitch perfect.