Last night, the mister and I took a sunset cruise in our little swamp boat and annoyed this innocent anhinga:
The bird is clearly saying "FUCK YOU!!" at the 24-second mark.
Anhingas are also called "snake birds" because they swim with their heads sticking out of the water, resembling a snake. After swimming, they roost in trees or on snags to dry their wings. Cormorants do the same and closely resemble anhingas, only cormorants have a curved beak. Here's one we saw on the same excursion: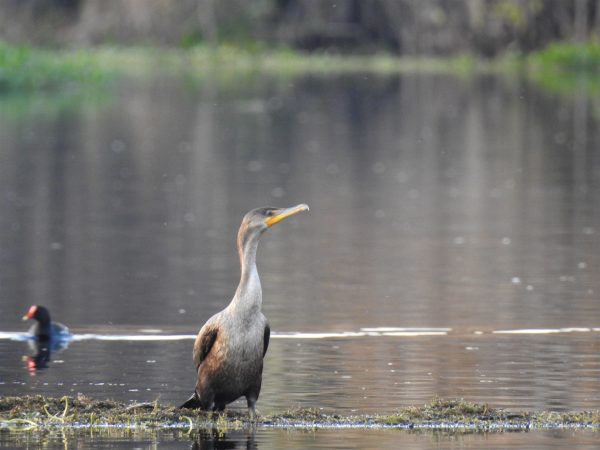 Got any big plans for the weekend? Is anyone participating in one of the Women's Marches taking place nationwide? I was just reading a depressing account of the national Women's March org — Women's March Inc. Sounds like they've managed to fuck up the whole thing. Le sigh.
We'll probably hang out at home, maybe go annoy some more swamp critters. You?
Trump is on Twitter fomenting anti-immigrant hatred. Maybe he's trying to change the subject from the revelation that he committed a felony by directing an underling to lie to Congress, or maybe he's trying to distract the media from the snowballing effects of the Trump shutdown. Or both. Maybe neither.
He's claiming that ranchers are finding "prayer rugs" on the border — likely he's narrating some Fox News reportage, which intersperses clips of interviews with American crackpots and shots of correspondents yelling "CARAVAN" at random pedestrians in Central America.
Rugs, though. That's some scary stuff. Why, just yesterday, I tripped on a rug with an upturned corner and very nearly stubbed my toe on a coffee table leg.
Anyhoo, open thread.