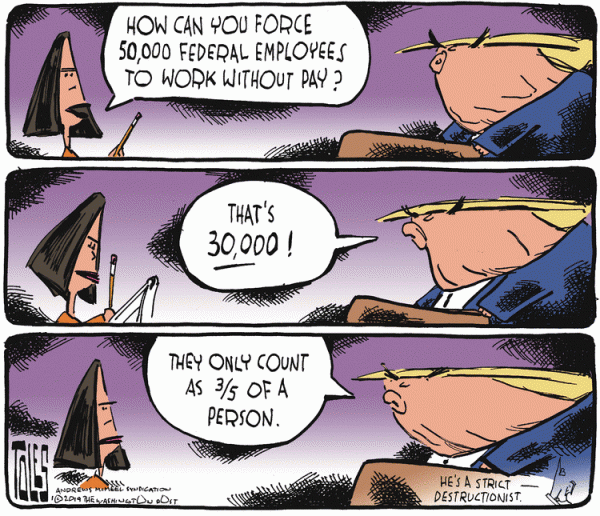 Day 27 of this reckless presidential temper tantrum. The American people are suffering. It's time for Mitch McConnell to emerge from the witness protection program and DO YOUR JOB. pic.twitter.com/hxtTFuV2ok

— Hakeem Jeffries (@RepJeffries) January 17, 2019
While we wait, not so patiently, for Robert Mueller and/or other experts to further discuss Buzzfeed's big reveal from last night…
It's revealing that when Pelosi put opening the government as a condition of the State of the Union Trump didn't respond with, "I have confidence we can get solve this in the next two weeks." He has no plan, no endgame in sight.

— Schooley (@Rschooley) January 18, 2019
From Vanity Fair, "Trump Doesn't Understand Why He's Losing the Shutdown":
With each passing day, it seems less likely that Donald Trump will negotiate a speedy resolution to the ongoing government shutdown. Ordinarily, in the case of a political standoff, one side will concede after the consequences exceed their pain threshold, or once both sides grow tired of posturing and agree to compromise. Trump, however, appears to be lacking in any of the traits that might bring him to the negotiating table. He is, for one, largely apathetic to the 800,000 or so federal workers who are not getting paychecks ("most of the people not getting paid are Democrats," he has said). He is arrogant enough to believe that the American people largely back his position, despite polling showing the exact opposite (58 percent of Americans told the Pew Foundation that they oppose the wall, and would also oppose a deal that included wall funding). And he lacks the political sophistication to understand what is motivating Democrats in Congress to hold firm.

The latest evidence comes via The New York Times's Maggie Haberman and Annie Karni, whose sources inside the White House portray the president as a man without any sort of plan for ending the shutdown, now in its 27th day. "We are getting crushed!" Trump recently told acting chief of staff Mick Mulvaney, according to the Times. "Why can't we get a deal?"

A large part of the reason, of course, is that Democrats in Congress are almost perfectly united behind House Speaker Nancy Pelosi and Senate Minority Leader Chuck Schumer, who have been holding the party line against any funding for a physical border wall. White House aides tell the Times that Trump "believes he is still playing a strong hand," but it's not clear what leverage he really has…
How about 'none'? Does 'none' work for you?…
Politico, bothsider-ing with all its might, "Shutdown breaks Congress' spirit":
…[W]ith most members headed home for a long weekend, the partial shutdown is essentially guaranteed to enter into its second month. It's an unheard-of impasse even in a capital that's seen debt crises, blunt budget cuts and scores of unprecedented political conflicts over the past decade.

But this one feels different, a shutdown where the dynamics are frozen. Speaker Nancy Pelosi and Senate Minority Leader Chuck Schumer (D-N.Y.) don't want money for a border wall, and President Donald Trump wants $5.7 billion. Rank-and-file lawmakers can make noise and try to create momentum, but Trump has dismissed everything they've come up with — leading some members to wonder what they're even doing.

"It's very frustrating for me because my whole instinct is: Let's find a way to get this solved. But so far anyway, his idea of negotiating is to say 'here's what I want, I'll give you nothing,'" said Sen. Angus King (I-Maine), who tried to forge an immigration deal a year ago. "I could sit down with Mike Pence for an afternoon and we might come to some agreement. And then [Trump would] blow it up."…

Some Senate Republicans were also trying to give Trump an off-ramp, including Sens. Lindsey Graham (R-S.C.) and Rob Portman (R-Ohio). They hoped to get as many as 20 Republicans and 20 Democrats to sign their letter to Trump, with the hopes that a substantial Democratic commitment to debating border security and a push from Trump's own party could shift Washington's stalemate.

But Republican support for the letter cratered this week amid a widespread belief that the president won't support opening up the government without a border wall guarantee. The letter still might get sent, according to two people familiar with it. But nobody is super enthused.

"They came up with about nine or 10 Republicans. Which we didn't think is enough to be convincing to the president," said Senate Minority Whip Dick Durbin (D-Ill.)…
He's already inconveniencing the Masters of the Universe…
I'm sure the split screen of Trump's delegation hob nobbing in Davos with the super elite and rich versus the Federal Workers in Food Bank lines in the rain and snow will look great. They aren't good at this.https://t.co/LWgALRLQEV

— Russell C. Lakey (@RussLakey) January 17, 2019
They announced the trip was still on this afternoon after breaching Pelosi's security.

The Keystone Kops looked like geniuses compared to this utter failure of an administration.

— Thorby, Son of Baslim of Jubbul. (@neoblaque) January 17, 2019
So… the president canceled the Pelosi trip to Afghanistan out of pique and then realized that meant he also had to cancel his own staff's trip to a Swiss ski resort? https://t.co/TYYz6spoE9

— Josh Barro (@jbarro) January 17, 2019
Maybe if someone showed Lord Smallgloves another Politico headline — "Shutdown has dropped grenade onto Trump's 2020 team"?
… As polling turns increasingly against the president, and White House officials try to find a solution to what some consider a pointless standoff, Trump aides and advisers are worried that the president is doing his 2020 Democratic challengers an early favor.

"This is a really bad spot for him," said one person familiar with Trump's campaign, who fretted that Trump is not thinking strategically about how the shutdown might affect his reelection chances. "He may just be fighting because he doesn't know what the hell else to do."…

Others simply believe that, four weeks in, Trump has more to lose than to gain in what has become a high-stakes political gambit that could cost him with his base if he strikes a compromise.

"If it ends with some kind of capitulation, it could be the beginning of real fracturing in Trump's core base of support. If it ends with a deal that can be plausibly sold as advancing the case for the wall, then Trump loses little but gains little. That's a bad place to be," said Yuval Levin, editor of National Affairs, a leading conservative policy journal. "He's fighting for something that voters outside his core coalition don't value, so he has much more to lose than to win."