Possum Queen adheres to the revised and updated "NO COLLUSION" talking points in this brief clip, standing daintily on tippy-toes in the single square inch of unpainted flooring in the corner:
Sarah Huckabee Sanders: "Is CNN guilty of collusion?" pic.twitter.com/dssPRwCMk3

— TPM Livewire (@TPMLiveWire) January 25, 2019
The facts have whittled down the indignant broad denials of the early days to "Trump didn't personally conspire with Russia." That will eventually morph into "conspiring with Russia is not a crime."
Would a man with a lifelong reputation as a greedy, lying cheat take the opportunity to lie and cheat for personal gain? Maybe even the dullest of our fellow citizens can puzzle out the end of this mystery.
But as we await the denouement, Huckabee Sanders' malfunctioning centrifuge of a mouth whirls out a kernel of truth that will have to be reckoned with eventually: Beltway media complicity in this super-massive black hole of political scandals.
Kay put it succinctly this morning in the Stone thread:
This has been the most deliberately minimized presidential scandal of my lifetime.

I'm convinced it's because they all dismissed it as a "nothingburger" during the campaign and they can't admit it's big now without having egg on their faces. There was some kind of editorial decision made and to admit it now means they made the wrong call. And they will fucking DIE before they admit that.
Truth. Here's a montage of the NYT's front-page treatment of the campaign's closing days (source):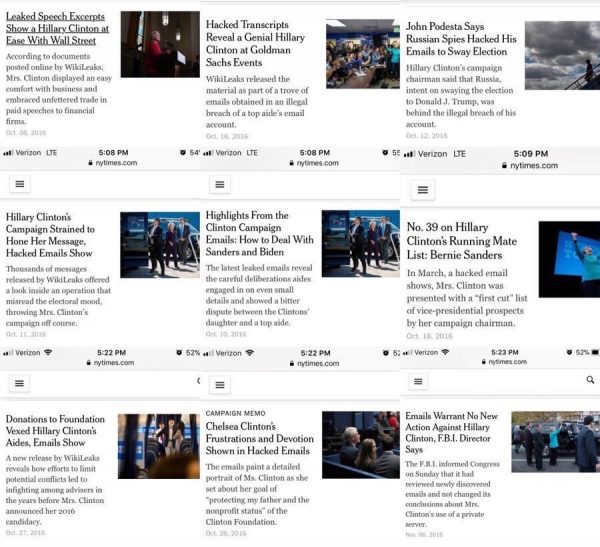 While The Times was fretting over HER EMAILS and banker-directed geniality, the US election was under attack by a hostile foreign power bent on sleazing a supremely sleazy New York City resident into the Oval Office, and it wasn't some big secret. We didn't understand the vastness of the conspiracy at that point and probably still don't, but its outlines were there, and Trump's hometown paper didn't seriously follow the blinking neon CROOK signs until after the election.
As unforgivable as that was, the lack of introspection that followed and the deliberate downplaying of the scandal ever since have been even worse. The day after the most incompetent, unprepared and scandal-plagued president in modern history was sworn in, while the largest demonstrations on the planet were underway to protest that travesty, The Times editor was patting himself on the back for his paper's awful Russia scandal coverage while members of his crack political team were barfing up prurient navel-gazing trash such as "Chasing Hillary."
This is worse than incompetence. It's active participation in the gas-lighting.
Because the principals involved in the Trump-Russia scandal are bumbling, buffoonish villains, I'm pretty sure it'll all come out anyway. And I'm not suggesting the coverage of the Trump administration from The Times, The Post, CNN or other prominent media outlets has been completely worthless; all have broken really important stories.
But goddamn it, they have to do better, all of them. I don't know what the answer is. Maybe burn down the DC bureaus and start from scratch with people who've honed their skills covering foreign capitals. Definitely start with NOT buying exclusive rights to garbage propaganda like "Clinton Cash" and using that framing to build your narrative (both The Times and The Post were guilty of this).
Or maybe, as Kay once suggested, we just accept the fact that these people will never change and urge Democrats to play the game. Maybe hang up a few tire swings and put on BBQs for the self-absorbed cockwaffles on the Beltway bus. After all, they blew the Iraq War story and refused to engage in self-examination in the aftermath of that catastrophe, despite untold loss of life and a trillion or so in national treasure down the rat hole.
Maybe Elizabeth Warren should host a clambake. Perhaps Kamala Harris could invite Chozick to a girls' night out and validate her personal and professional choices over chardonnay.
Somehow, fellow citizens, we've got to crack this code.