Hell of a lead image on @nytimes app right now pic.twitter.com/PHBQdPVvNh

— Irin Carmon (@irin) January 28, 2019
As she left her table at a Washington restaurant Friday night, the staff cheered and applauded Nancy Pelosi. What a week she had had. Said a waitress in near tears,"We need someone who will fight for us." The Speaker carried a small white paper bag, I know not what was in it.

— Elizabeth Drew (@ElizabethDrewOH) January 26, 2019
Gonna be a long week (cuz they're *all* long weeks, now) so let's eeeease into it. From the Washington Post, "'Pelosi does not mess around'":
Nancy Pelosi's first showdown with President Trump began with him publicly questioning her political viability. It ended with the House speaker winning an unmitigated victory and reviving her reputation as a legislative savant.

Trump's capitulation — agreeing to reopen the federal government after a 35-day standoff without funding for a U.S.-Mexico border wall — generated rave reviews for Pelosi from fellow Democrats and grudging respect from Republicans who watched as she kept an unruly party caucus united in the face of GOP divide-and-conquer tactics.

Pelosi (D-Calif.) emerges from the shutdown as a stronger leader of her party — and more popular with the public, by early measures — as Democrats eye aggressive efforts to counter Trump's agenda through ambitious legislation and tough oversight. That suggests the shutdown might have been a strategic misstep for Trump, in addition to a tactical error…

When the two met in the Oval Office on Dec. 11 Trump suggested she was constrained by the fact she had not yet been formally elected speaker: "Nancy's in a situation where it's not easy for her to talk right now."

Pelosi shot back: "Mr. President, please don't characterize the strength that I bring to this meeting."

In retrospect, the remark was more a warning than a retort…

… [T]here appears to be little appetite on Capitol Hill for a reprise of the draining shutdown. Trump's Plan B — declaring a national emergency and tapping military construction accounts to fund the wall — has unnerved many Republicans and spurred Democrats to prepare for litigation that might not be settled before Trump's term is up.

"I think he's finally met his match," said Assistant Speaker Ben Ray Luján (D-N.M.). "The speaker always presents herself in public and in private with the utmost respect. But she's firm, and she's strong, and she understands how to wield that power."…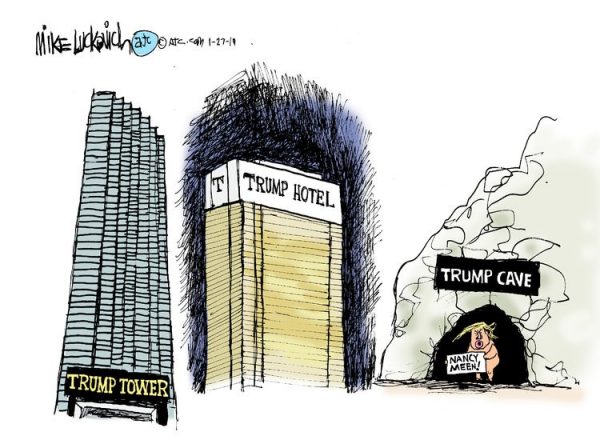 … To be powerful and to also need nothing is to be in the catbird seat, and Pelosi, in this moment, had both: her House majority is on offense, and the shutdown was—and now forevermore will be—Trump's humiliation. If we can give credit to the president in this moment of failure, perhaps it is in the fact that he likely recognized, before even the first federal worker was furloughed, that Pelosi had already won.
Pelosi embraces legislation that would effectively prevent future government shutdowns. https://t.co/xsdssgwqtV

— Kyle Griffin (@kylegriffin1) January 27, 2019
.@EJDionne: Nancy Pelosi stood up to an empty piece of rhetoric and said we can't allow #Trump to hold the country hostage, and that kept the Democratic party together across the board, and now it's Republicans who are split. And they've got a real problem going forward. #AMJoy pic.twitter.com/1B5qYn7s9h

— AM Joy w/Joy Reid (@amjoyshow) January 27, 2019
Still kinda surprised that the most powerful Democrat in the country put Trump so plainly and publicly on notice and it wasn't treated as a bigger deal. https://t.co/Uhpztizu9I

— Schooley (@Rschooley) January 27, 2019
I think the underestimation of Nancy Pelosi is in direct proportion to the overestimation of Paul Ryan.

— Schooley (@Rschooley) January 27, 2019
Pelosi saw her poll numbers rise during the shutdown. What's he talking about? https://t.co/rfdeyDzPny

— Sam Stein (@samstein) January 27, 2019