Tonight on The Swanson TV Dinner Hour of White Power Glower Hour, Putin's other useless idiot has thoughts to share. Bozhe moi!
oh god pic.twitter.com/wFUnoz6g10

— Andrew Lawrence (@ndrew_lawrence) January 30, 2019
I'll be on @FoxNews tonight at 8pm ET talking about @HowardSchultz & the Democratic Party establishment's treatment of independent candidates & voters. If you don't like Fox, please let @CNN, @MSNBC & your favorite channel know I'll talk with them anytime. :)

— Dr. Jill Stein? (@DrJillStein) January 29, 2019
You can click across if you like for the rest of Dr. Stein's deep thoughts on the structure and nature of the American political system, American politics, and, of course, Dr. Jill Stein who, Dr. Jill Stein holds in exceedingly high regard.
NOOOOO DON'T LISTEN TUCKER, GET THE FLU SHOThttps://t.co/4FjjMoNX8t

— NotOutlandishHat (@Popehat) January 30, 2019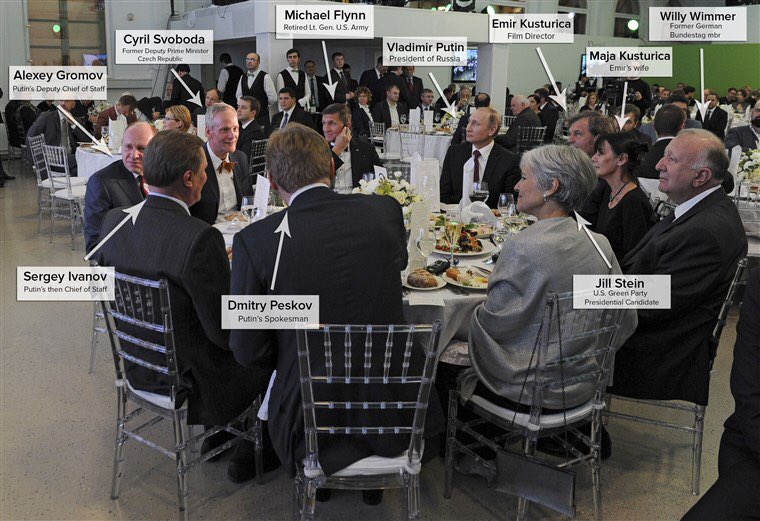 (Dr. Stein and LTG Flynn dining with Vladimir Putin in December 2015)
It is important to remember that when Dr. Stein and LTG Flynn were dining with Putin and enjoying the gala, the NRA's delegation was being hosted in Moscow by Alexander Torshin, Mariia Butina, and several Russian government officials. This amount of coincidence takes a lot of planning!
Open thread!