The US Preventive Services Task Force (USPSTF) is going through the process to determine if it wants to recommend Pre-Exposure Prophylaxis medication (PrEP) treatment to prevent/minimize the risk of new HIV infections.
The draft statement suggests that the evidence is strong that that PrEP is an effective prevention technique for certain populations.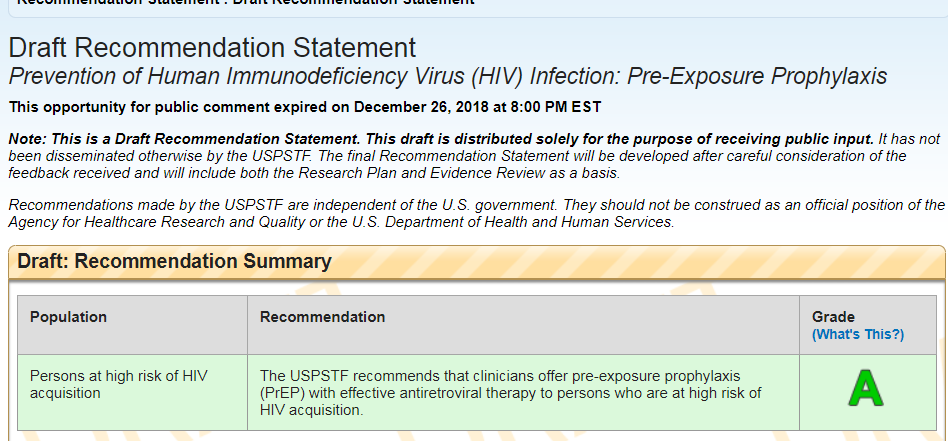 A person at high risk is defined as an individual who has one of several non-mutually exclusive risk factors.:
Serodiscordant sexual partner (someone already with HIV
recent sexually transmitted infection
Inconsistent use of condoms during anal sex
Sharing injection equipment during illicit drug use
PrEP is a prescription drug taken daily.  It provides short term protection that quickly fades once the pill is discontinued.  The pill is either the brand drug Truvada or the generic equivalent.  The brand version is very expensive.  The generic drug is "just" expensive.  GoodRx shows that the generic drug has a roughly $10,000 per year retail cost before coupon and cost sharing assistance programs brings the cost to the patient to about $1,000. If we assume 1% of the covered population is eligible to be prescribed zero cost sharing PrEP, then the retail price of PrEP translates into $8 per member per month (PMPM) in premiums. If we assume that an insurer can get a 50% discount, PrEP at 1% uptake translates to $4 PMPM. Higher maximum uptake would increase both of the PMPMs.
PrEP is effective but PrEP is not cheap.
This leads to a significant policy problem in the ACA.
Right now, the ACA does not risk adjust for PrEP.  It risk adjusts for a dozen broad categories of pharmaceutical compounds including Hepatitis-C anti-virals (which has some very intriguing properties and exploits), diabetes treatments and standard anti-viral cocktails for AIDS/HIV patients but not PrEP.  This means that an individual who takes PrEP is a guaranteed money loser even if they incur no other unusual claims.
Insurers don't like to lose predictable money on their covered lives.  As we discussed yesterday, this is a "have to vs. want to" situation.   Assuming the final recommendation comes out that PrEP should be a no cost sharing treatment, insurers will pay PrEP claims.  If they are not getting either risk adjustment or a secondary bump payment from somewhere else, they will not want to pay any incremental PrEP claims.  Insurers have numerous strategies to avoid money losing populations.
Insurers can play numerous games.  They can require pre-authorization.  They can try to categorize some of the monitoring and counseling claims as non-preventive and therefore cost sharing eligible at a high level.  They can require long prescriptions or very short prescriptions.  If insurers believe that there are non-random concentrations of people who are highly likely to be both eligible for no cost sharing PrEP and who are likely to be prescribed PrEP, they can avoid selling policies in  particular counties within a rating area or an entire rating area.  I am sure very smart people who are paid a lot of money at insurers and their consultants have a dozen more ideas jotted down to avoid getting hit with very large, uncompensated expenses.
So what can be done?
One option would be to impose hard mandates and very restrictive regulation.  It would be an attempt to make insurers behave against their instincts.  Some insurers would behave reasonably well according to the intent of the regulators while others would alter their strategies including deferring entry into markets that they otherwise would have gone into.  This would still be a "have to" situation for insurers.
The other way of addressing this issue is to make paying for PrEP a "want to" situation.
And that means integrating PrEP into the risk adjustment formula for the ACA. Risk adjustment moves money from insurers with low coded claims disease burden to insurers with a high average coded claims disease burden.  Each disease category is assessed as an additive coefficienct of average premium.  Someone who is coded as having hemophilia will see their insurer receive a transfer that is about sixty times state wide average premium while someone who has uncomplicated diabtes (HCC-021) will entitle their insurer to a transfer of slightly less than half the average state wide premium as the incremental bump payment.  Risk scores will balance out so an insurer with a single hemophilia patient could still end up paying out risk adjustment funds.
The ACA risk adjustment model currently has ten prescription drug risk adjustment categories.  Nine are for long term prescriptions and one, hepatitis-C anti-virals, is for a short term course of treatment.  Adding PrEP to this list of prescription drug based risk adjustment categories would transform PrEP claims payments from a "have to" to a "want to" if we assume that the risk adjustment co-efficienct is sufficienctly large to allow insurers to break even on most PrEP cases.  And if the co-efficienct is too large, the first order effect would be to encourage insurers to pass out PrEP to a very widely defined cohort of "high risk" individuals.
This is a case where, from a societal perspective, getting insurers into a "want to" incentive structure is highly valuable conditional on PrEP becoming a no cost sharing service for high risk populations.  That structure is most likely some type of modification to the current risk adjustment system.