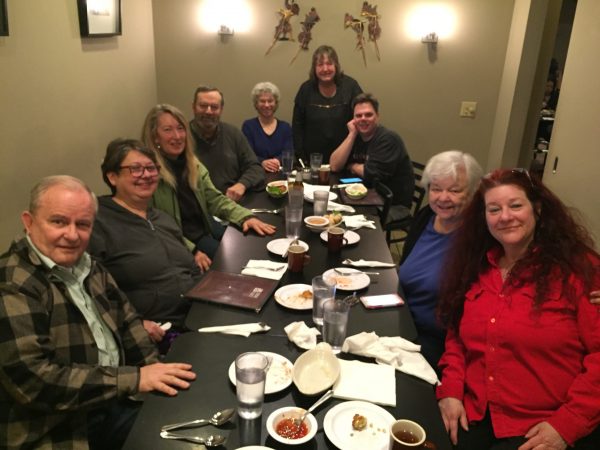 From left to right: mr. opiejeanne, Beautifulplumage, Sarah (no nym yet, but we're hoping you'll comment!), Dan B, H.E.Wolf, thalarctosMaritimus, Yutsano, opiejeanne, and CaseyL.
ThalarctosMaritimus sent me photos and a nice write-up of the Seattle meetup. Sounds like they had a good time:
The Sunday-evening Balloon Juice meetup in Seattle was joyous. Yutsano suggested the Indo Café on Aurora, and from the corn fritters to the main dishes, it was every bit as good as he described it. We had our own room, and the company and the conversations were excellent.

Amir, we did have fun and we did think of you and wish you were with us. Although the food was Indonesian, rather than Malaysian, we'd have loved to hear what you thought of it, and maybe gotten a little guidance in navigating so many delicious choices!

Of course, toasts were raised to absent friends: we remembered Schlemazel, the beloved animals who left and the people who missed them, and, specifically, Tunch.

Here's hoping we can do this again soon.
Open thread