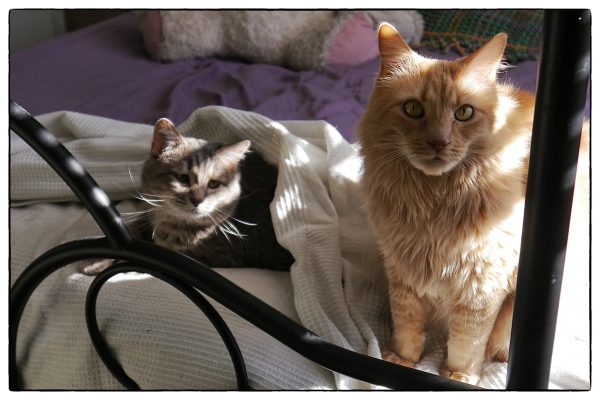 There were lots of objections to bed making the other day. So I just made the bed around them. Gabe is settling in. We are having litter box issues, but I'm working on that. He's very sensitive to redirection (understandable because he was surrendered because of litterbox issues), but he's staying in either the temp box or the puppy pads, so we can be patient with him.
I would have told you a few days ago, I didn't think he was happy here.
He does all the normal stuff – snuggles in my lap, sleeps on me, plays with Zander, ignores Emma's bitchiness, adores the dogs – but there was just something that felt off, like we were not the family he was expecting. He was distant even in his snuggles. I don't know. But this weekend something shifted and he seems content. I'll take it.  I just don't want him to be unhappy here.
Open thread