A couple of days ago it was brought to my attention that a bunch of wingers had their knickers in a twist about Senator Kyrsten Sinema's outfit: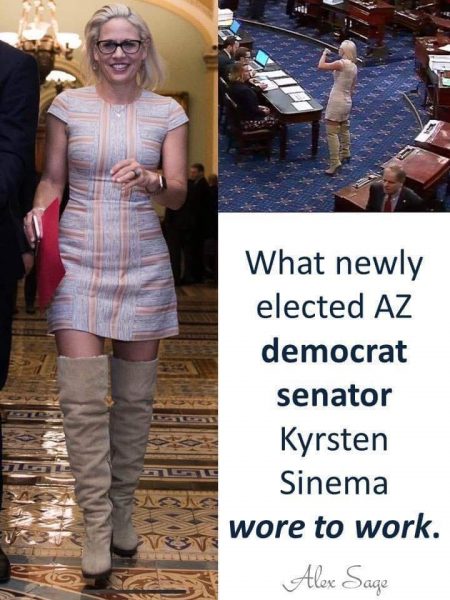 Alabama State Auditor Jim Zeigler said he will weigh challenging Democratic Sen. Doug Jones in 2020. But on his Facebook page, Zeigler has fixated on another junior senator.

On Saturday, Zeigler posted two pictures of Arizona Democratic Sen. Kyrsten Sinema wearing a short dress and tall boots accompanied by the headline "What newly elected AZ democrat senator Kyrsten Sinema wore to work."

Zeigler, a Republican, originally referred to Sinema as "inappropriately attired" but edited the words out of the post an hour and a half later.
Personally, I thought she looks fine, and then I read this this morning:
Kyrsten Sinema, at the time an Arizona congresswoman, didn't pose for the cutesy photo op the Dems staged on the Capitol steps. Nor did she tweet about her "right to bare arms," as many of her colleagues did. But few legislators stood to benefit from the loosened rules as much as she did. In her three terms in the House, Sinema became known for a signature style: bold colors, graphic patterns, glittery hoop earrings, and lots of flouncy sleeveless dresses befitting the climate of her home state. With a few notable exceptions (see: eccentric "hipster" Rep. Rosa DeLauro of Connecticut), women in Congress usually favor more conservative ensembles: solid neutrals, structured sheath dresses, and shapeless trousers. The evident joy Sinema took in dressing outside the Washington norm was a welcome departure from the dutiful businesswear that currently populates the Capitol. It was also appropriate for the image of a post-partisan, aisle-crossing "social butterfly" she strove to present.
And you know what? She looks great. As I mentioned elsewhere, I was born wearing khakis and an Oxford cloth blue button down, I don't like jewelry on men to the point that I do not wear a watch, and my fashion sense is even worse these days. But, as my grandfather used to say, "I can't lay an egg but I can tell a good one from a bad one." Her clothing is colorful, fun, and most important, she looks confident and happy. If the addled old farts can't take her seriously because of her attire, that's, you know, THEIR FUCKING PROBLEM.
And really, this is more of the faux decorum that makes Washington suck so much. We'll spill column inches about someone taking their fucking jacket off in the oval office or not wearing what some addled old state auditor in Alabama thinks is appropriate for SOMEONE ELSE to fucking wear, and then look the other way when we put kids in cages. Only in America is someone saying "fuck you" worse than fucking over millions of people.
Also, this:
She should switch to pantsuits. Then they will stop criticizing her.

— Thers (@Thers) February 1, 2019
Fuck 'em. Be your bad self, Kyrsten.