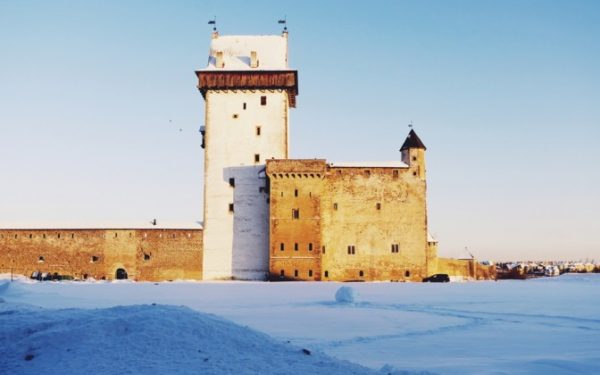 You've probably read about how Russia is going to send "little green men" into Estonia and pull another Donbas. Well, it's going to be harder than that. Here's a very good long read, with interviews of people who live in Narva.
The northeastern part of Estonia was industrial, with a uranium yellow cake (and later rare earths) production plant at Sillamäe and oil-shale mining around Kohtla-Järve. Both functions were felt by the government of the Soviet Union to be essential to the state, so they brought in ethnic Russians and a few others. Sillamäe was a closed town until the end of the Soviet Union.
Many ethnic Russians in the Estonian Soviet Socialist Republic went back to Russia when the Soviet Union collapsed, but many stayed. Many have become Estonian citizens, but one of the requirements for Estonian citizenship is being able to answer questions about Estonian history in Estonian, so some of the ethnic Russians, particularly older people, decided not to become citizens. They are sometimes referred to as stateless people, but they live in Estonia pretty much as they always have.
Vladimir Putin has posed himself as a protector of Russian people wherever they may be, and Russian rhetoric sometimes includes the Russian speakers in Estonia.
I have found most American reporting on this subject to be inadequate, since the reporters fly in and fly out, and most don't even do that. So this is a great article if you want to know more.
When people talk about Narva's "Russian-Estonians," are they talking about native Russian-speakers? Native bilinguals? Those from mixed families? Bilingual households? Are they talking about those forcibly relocated to Narva from other parts of the Soviet Union during the occupation? Their descendants? Or recent voluntary immigrants who have come to Estonia in search of higher wages, better living conditions and better future prospects for their children? Someone who can be described as Russian-Estonian could easily be a Russian citizen, an Estonian citizen, or a stateless person, known in Estonian as a grey passport-holder, referring to the colour of Estonia's alien's passports.

And unsurprisingly, all of the above live in Narva together, and based on conversations I had with representatives of various aforementioned categories, none of them are terribly pressed on a daily basis to fuss over existential questions of who they are or what label fits them best. Many echoed similar sentiments that the desire to label them tends to come from the outside, whether from politicians in Tallinn or the media.
The photo is of Narva Castle, with Ivangorod Fortress in the background, across the Narva River in Russia. From the article.
Open thread!