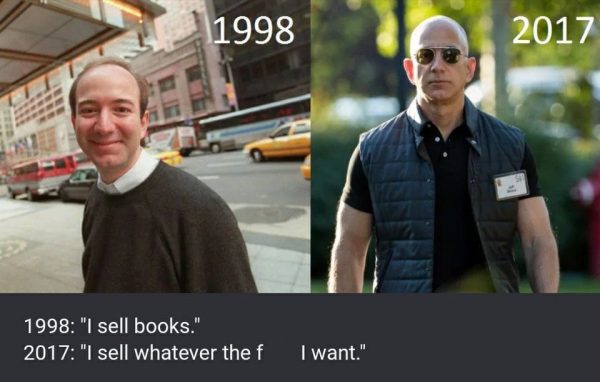 Jeff Bezos has published a piece on Medium, and man is it crazy:
Back to the story: Several days ago, an AMI leader advised us that Mr. Pecker is "apoplectic" about our investigation. For reasons still to be better understood, the Saudi angle seems to hit a particularly sensitive nerve.

A few days after hearing about Mr. Pecker's apoplexy, we were approached, verbally at first, with an offer. They said they had more of my text messages and photos that they would publish if we didn't stop our investigation.

***

Well, that got my attention. But not in the way they likely hoped. Any personal embarrassment AMI could cause me takes a back seat because there's a much more important matter involved here. If in my position I can't stand up to this kind of extortion, how many people can? (On that point, numerous people have contacted our investigation team about their similar experiences with AMI, and how they needed to capitulate because, for example, their livelihoods were at stake.)

In the AMI letters I'm making public, you will see the precise details of their extortionate proposal: They will publish the personal photos unless Gavin de Becker and I make the specific false public statement to the press that we "have no knowledge or basis for suggesting that AMI's coverage was politically motivated or influenced by political forces."
Read the whole thing- and Bezos has receipts. They thought they were fucking around with the guy on the left and the guy on the right showed up.