Or not: Vice President Pence, speaking today at the Munich Security Conference, told our allies that he brought greetings "from the 45th president of the United States of America, President Donald Trump."
He paused.
He waited a little longer.
And then one beat more.
Crickets.
Four seconds in, Pence gave up, and picked up his speech.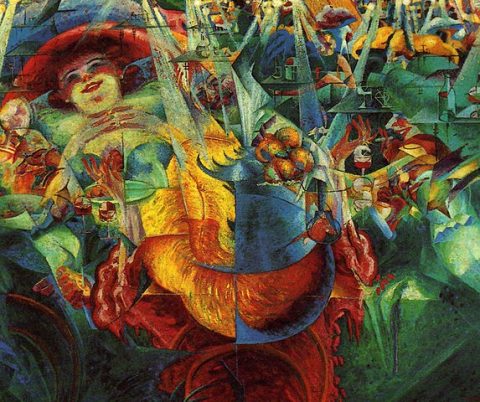 American power can be measured in all sorts of ways — including the degree to which we are valued, trusted and respected by our allies.
The US under Republican misrule has squandered an enormous amount of that informal power.  We are not an irrelevant nation — any more than the United Kingdom was after the half a century in which its empire dissolved.  And we haven't gone all the way to the position Britain found itself in by, say the late 1950s, an unmistakably second rank power.
But any delusions about an American 21st century are pretty well exploded now, as indicated by the utter disdain for the President of the United States felt by everyone sentient observer — and for the political party and movement that still, against all reason, stands by him.
We won't see an America that can persuade as well as bully the world until the Republican Party rubs shoulders with the Whigs.
Image:  Umberto Boccioni, Laughter, not later than 1916.