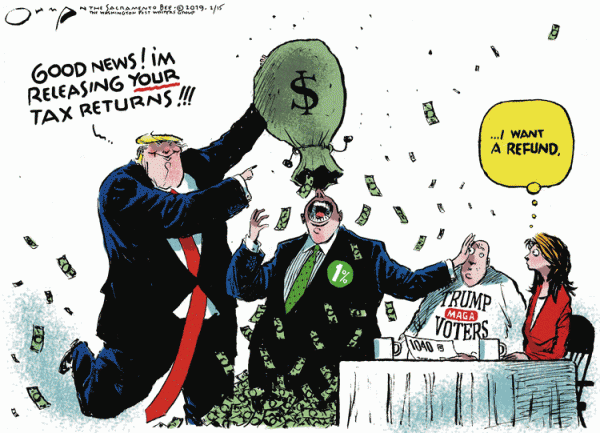 Every time you hear anyone complain that they're not getting the tax refund they had expected, tell them Trump took their refund to pay for his wall.

— Dana Houle (@DanaHoule) February 15, 2019
If that isn't part of the Democratic messaging for 2020, shame on the campaigners. I know that financial planners advise that it's best not to overpay one's taxes, but lots of Americans (I've been among them) still prefer to treat an annual refund as a form of savings account. And the GOP's 'tax cut' scam means that a lot of us are going to get smaller refunds — or be required to pay money we don't have.
Eric Levitz, at NYMag, "Trump Tax Cuts Are (Probably) About to Become a Political Disaster":
… Even with (allegedly) light withholding, the the tax bill's breaks for middle-class people weren't large enough to attract much notice. Between changes in salaries, health-care premiums, and 401(k) contributions, most Americans didn't detect much tax relief in their paychecks. The Trump tax cuts actually became less popular after they took effect. And, of course, Paul Ryan's majority drowned in a blue wave.

Now, the bill for the GOP's (reported) withholding shenanigans is coming due: The average American's tax refund was 8.4 percent lower in the first week of 2019 than it was one year ago (under the pre-Trump tax code). And while Americans have trouble noticing tax changes when they're dispersed across 12 to 24 separate paychecks, they do typically pay very close attention to the size of their refunds. About three-quarters of the country typically qualifies for a tax refund most years — and for many of those households, that check from the IRS is the largest lump sum they'll receive all year…


inject this shit directly into my fucking veins pic.twitter.com/XIH43gzZHq

— Direct Action Bronson (@smarxist_) February 4, 2019

Now, we're only one week into tax season. And it isn't 100 percent certain that the IRS's withholding tables were way off. But current evidence suggests they were. And if that's the case, then the GOP's efforts to game withholding won't just lend credence to the Democrats' most hyperbolic attacks on the Trump tax cuts — they could also depress economic growth as the 2020 campaign gets underway [because people won't have their lump-sum refunds to replace the tires / buy a new phone / take a spring-break vacation]…

Running for reelection on the strength of a failed attempt to throw millions off of health insurance — and a tax cut that did a lot for the rich, and only a little for the middle class — seems hard. Doing so after you've accidentally led millions of Americans to (falsely) believe that you raised their taxes seems harder.
People hating on Amazon are directing their wrath at the wrong target.

Companies pay what the law requires.

Republicans loot the workforce to enrich the powerful.

Blame them.

Amazon Will Pay a Whopping $0 in Federal Taxes on $11.2 Billion Profits https://t.co/ot11CApzbz

— The Hoarse Whisperer (@HoarseWisperer) February 15, 2019