Have any of y'all seen The Great British Design Challenge on Netflix? I started watching it because I'm jonesing for new episodes of The Great British Bake-Off, and I figured maybe some low-key British humor and good-natured competition in the decorating sphere might fill that void.
As far as the show goes, I don't like it nearly as much as GBBO. The judges aren't funny (though the architecture expert is amusing and informative), and the competition isn't as fair. These poor schnooks have an absurdly short amount of time to transform a room, and there's a wild card for the contestants in the form of clients (the people whose rooms are being redecorated).
Although they've had a chance to indicate their tastes and goals in a brief prior to the designers coming up with a plan and presenting it, clients on that show can and do derail an imaginative decorating scheme on the day work is to begin with some random-ass decree, such as, "I don't like blue, and I hate louvres." (That's an actual example.)
But despite the program's flaws, as far as what I need to see at this point in my life, decorating is far more relevant than baking. As regular readers know, we took up residence late last October in a ramshackle money pit. It's got a million-dollar view — honest to dog, I doubt Bill Gates has a better one — but the folks who lived here before waited until the place was falling apart before decamping.
I've enjoyed decorating on a budget ever since I got my first off-campus hovel, but that impulse was derailed by motherhood somehow. We undertook an ambitious DIY kitchen renovation at our old house, but aside from that, my efforts to create a welcoming and serene home environment during the nesting years were confined to mopping when the kitchen floor became adhesive enough to snatch off shoes.
Now that impulse has returned with a vengeance, sparked by necessity. Every wall in this house save the bedrooms was painted pale blue by the previous occupants, a color augmented by a sticky residue of nicotine from their 25 years of indoor smoking. The walls have been scrubbed, primed and repainted, so lately I've turned my attention to the furniture and decor.
Our old furniture doesn't suit the new place. Like an idiot, I chose dark furniture when we lived in the old house because I thought it should match my husband's piano. The piano is in a different room now, but even if it was still in the living room, the furniture is out of whack with the bohemian vacation-shack ambience of the new place.
I can't afford to get new stuff, so I'm painting and re-purposing things and attempting to locate yard sale and thrift shop items. My mother-in-law is an invaluable ally in the latter. Here's an example of the former — our crappy old black IKEA TV stand with a fresh coat of paint: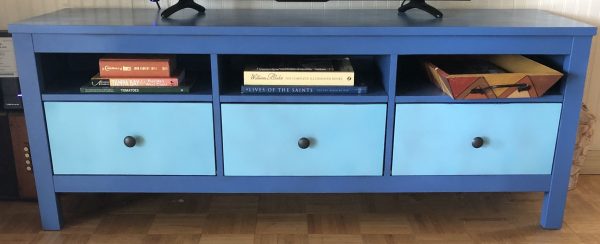 The difference is astonishing. Even my husband — who would eat dinner off an old mattress crate for 20 years without complaint — noticed how it brightened the room. And it cost less than $20 to fix it up.
My next project is going to be to decorating our bedroom. We've been married for nearly a quarter of a century and have never owned a headboard or set of drawers with a full set of knobs. I'm planning to make a retro-looking tufted headboard and re-do the dressers with paint and matching knobs for a change.
The main bathroom needs a new shower, and I'm going to let the professionals handle that because we would fuck it up. But it also has a hideous laminate-covered particle-board cabinet with a crappy sink. I'm thinking of replacing that with an antique (junk shop!) dresser and setting a sink in it. (Got the idea from a bathroom in a house we looked at before settling on this place.) There would be sawing and pipe-hooking involved, but I think we can handle it.
Anyhoo, my ultimate goal is to get this swampy shit-box into good enough shape to qualify as the BEFORE scene in a decorating show. Maybe the kids can achieve AFTER when we're dead.
I know John has undertaken extensive renovations and nest-feathering, and I'm aware that some of y'all have too. Any tips, resources or cautionary tales would be greatly appreciated. Or feel free to discuss whatever — open thread!