The FBI did a great job in recently taking down a white supremacist, anti-Semitic, MAGA-Dope, US Coast Guard Lieutenant into custody before he could actually act on his plans to kill a large number of Democratic elected officials, news reporters and commentators who are all regularly attacked by the President and his surrogates, and, of course, George Soros. Unfortunately other MAGA-Dopers within the President's orbit have decided to ramp up either visual imagery targeting Democratic elected officials or talk of civil war.
First up is the NRA, which decided that this was a good way to frame an article about the new Democratic House majority's pursuit of gun safety and control legislation. From the latest issue of the NRA's American Rifleman.
Someone sent me this image of the latest copy of NRA's magazine, featuring a story with the words "Target Practice" next to a photo of Nancy Pelosi with Gabby Giffords. Maybe don't do this @NRA. pic.twitter.com/u9fQhxwEyk

— Jennifer Bendery (@jbendery) February 22, 2019
Here's the picture on the right for a better look. There's Speaker Pelosi and former Congresswoman and attempted assassination survivor Gabbi Giffords right next to the headline "Target Practice".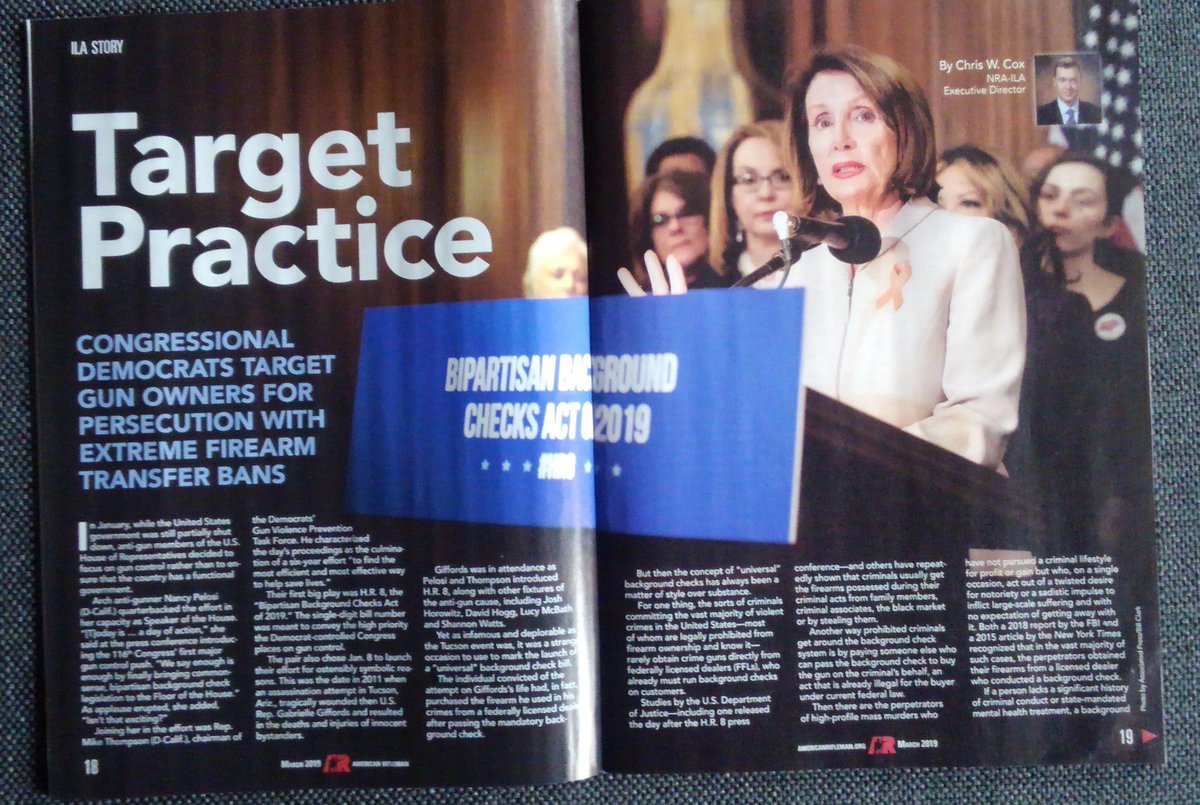 I get that the NRA doesn't want to see any new firearms legislation pass Congress that isn't in line with their, their members, and their business donors views of the 2nd Amendment. That part is fine. The actual messaging that is being conveyed here is not. Either the editors at the NRA's The American Rifleman are so deeply entrenched within 2nd Amendment absolutism that they can't see why this might be perceived as problematic or they understand it and approved it any way. Either way, it further sets the conditions for someone like Chris Hasson or Caesar Sayoc to take matters into their own hands and go on a domestic terrorist spree against their perceived enemies.
Next up is former US Attorney, Fox News legal analyst and political commenter, and one time potential personal attorney for the President in regard to the Special Counsel's investigation Joe DiGenova. DiGenova decided to take his paranoia out for a walk this week, both on Fox News and then on Seb Gorka's radio show.

Hey Joe: let me know when the news media are all appointed to local, state, and/or Federal judgeships, elected or appointed as District or States Attorneys or US Attorneys or hired as prosecutors in their offices. Until then, the news media, regardless of its members ideological views, is not in control of the US criminal justice system!
And that brings us to the Blue Footed Boobie of Budapest, daily carrier of two full size service weapons in two different calibers from two different manufacturers with two different manuals of arms, parallel parking scofflaw, McLovin cosplay aficionado, and NAZI appreciation society legacy inductee member Sebastien "Seb" Gorka. Gorka, who once tried to badger me into paying to take his course on Information Operations and Information Warfare by stating: "So I can presume you do not work IO or IW?", decided that he'd host DiGenova, as well as four other MAGA-Dopes who wouldn't know a civil war if it walked up and bit them on his radio show to discuss the matter.
This is so fucking dangerous. pic.twitter.com/HKSQOkygjT

— Tamara Cofman Wittes (@tcwittes) February 22, 2019
And before anyone asks, I did not actually listen to that equine and canine extravaganza. I also agree with Tamara Cofman Wittes that it is dangerous. And it is dangerous for the same reason that I wrote about when that other exemplar of mendacious mediocrity Megan McArdle took this idiocy out for a walk as part of her performance art celebration of Memorial Day 2018: (author's note, the excerpt below has been edited today to add DiGenova and Gorka to McArdle, as well as a couple of other small revisions and additions so it makes sense in the context of today's post)
Specifically that the US has never actually fought a civil war. A civil war refers to a form of low intensity warfare – as in less than interstate war* -where the supporters of two or more claimants to power fight for control of the state. The claimants may have either de jure (legal) or de facto (extant) claims to control the state. This is not what happened in the US in the 1860s. Rather, what we call the US Civil War was actually a rebellion in support of secession from the state in the attempt to set up a new one. There was no dispute as to the legitimacy of the election of Abraham Lincoln to the presidency. What was in dispute is that the southern states that would become the Confederacy refused to accept the election's outcome and sought to break away and form their own nation-state.

Had supporters of Secretary Clinton, including Democratic elected and appointed officials at all levels of government, refused to accept the President's election as legitimate and contested his inauguration, including violently, once they learned that the US intelligence community had determined that the Russians had interfered in the US election with the specific objective of electing the President, then we'd be talking about a civil war. That did not happen despite some of the comments posted here over the past 18 months or so…

What McArdle, as well as DiGenova and Gorka doesn't understand, because they know nothing about war – theoretically, conceptually, and/or experientially – is that there has been a low level insurgency in the US going back decades. We sometimes call this the culture war. Sometimes it's referred to as the Southern Strategy, but it involves one of the two major political parties and its supporting movements, including religious movements, in the US refusing to accept the legitimacy of any other ones. It includes frequent use of dehumanizing language and threats of violence ranging from legislatively and regulatorily directing the power of the state, utilizing lawfare, and actually threatening and sometimes undertaking violence against their opponents or the objects of their dehumanization campaigns when the insurgents don't get their way. And these people – elected, appointed, voters, supporters, pundits, etc – are McArdle's, as well as DiGenova's and Gorka's fellow travelers! They are part of the larger political, ideological, dogmatic religious, and sub-cultural groups and movements that McArdle, DiGenova, and Gorka have been marinating in since she was an undergraduate.

They also make the mistake that they are the only ones that get to define patriotism and to actually care about the US and its ideals. They have convinced themselves that they are the only ones who can properly interpret the Constitution when in fact they are the poorest of linguistic and political historians of the late 18th Century, which leads to constantly misunderstanding and misapplying the Constitution. And they have deluded themselves into thinking that because their opponents believe in civility that their opponents are also unwilling to actually defend themselves in the political, ideological, social, religious, economic, and/or legal arenas. And those delusions include the mistaken belief that they don't have the means to do so.

Right now the US is experiencing one of its periodic bouts of growing pains. As was the case in the 1780s and 1790s, the 1830s and 1840s, the 1860s, the late 1870s through the 1890s, during WW I, in the mid to late 1930s, and in the middle 1960s through the early 1970s, a period of imperfect progress is being met with a backlash against it. It is ugly. It is unpleasant. It is damaging. People who do not deserve to be hurt are being hurt. The real question that McArdle, DiGenova, Gorka, and those promoting this civil war garbage should have asked, yet are incapable of doing so because they are as the one who does not know how to ask, is what does it really mean to form a more perfect Union? And what are the best ways to go about perfecting the Union? Those are the real questions of American civic life. Not whether Democrats in urban areas know how to use guns. Or whether a second civil war is underway and the victims are the President, his supporters, and Republicans and conservatives in general.

And in case McArdle, DiGenova, Gorka, and/or any of their followers sees their names in the post title on Cole's twitter feed and decides to pop over and ask who am I to question their expertise in regard to war, here's my abbreviated professional bio:

Adam L. Silverman is a consulting national security subject matter expert. He delivered the keynote address at the US Army Psychological Operations Regiment's 100th anniversary regimental dinner in November 2018. In 2016 he assisted XVIII Airborne Corps in their strategic assessment of the Iraqi and Syrian Operating Environment for their deployment as the command element of Combined Joint Task Force Operation Inherent Resolve. In 2015 he served as a Senior Fellow at SOCOM's Center for Special Operations Studies and Research. Prior to that he served as a Subject Matter Expert with the Office of the Secretary of Defense for Security Dialogue and US Army Europe from June through August 2014. From July 2010 through June 2014, he was the Cultural Advisor and Professor of National Security and Strategy at the US Army War College. In June 2014 he was awarded the Outstanding Civilian Service Medal by MG Anthony A. Cucolo, III.

Dr. Silverman has advised and provided support to the Office of the Secretary of Defense for Policy, the Office of the Secretary of Defense for Security Dialogue, US Central Command, US European Command, US Special Operations Command, US Army Europe, the US Army Institute for NCO Professional Development, the US Army Sergeants Major Academy, US Army Special Operations Command, US Army Central, the US Army's Office of the Provost Marshal General and US Army Corrections Command, I Corps, III Corps, XVIII Airborne Corps, 1st Armored Division, the 101st Airborne Division, the Department of State's Near East and South Asia Desk, and JIEDDO's Science Directorate. From NOV 2013 to AUG 2014 he served as the Cultural Advisor to the Commanding General of US Army Europe on temporary assignment. From OCT 2012 to NOV 2013 Dr. Silverman served as the Cultural Advisor to the Civil Affairs Branch Chief on temporary assignment. During 2012 Dr. Silverman served as the Cultural Advisor to the Commanding General of III Corps on temporary assignment from JAN through AUG. In 2010 he was the external subject matter expert on temporary assigned control to US Army Civil Affairs Branch's Capability Based Assessment and then through JUN 2011 to the US Special Operations Command's Joint Civil Information Management Test Development program. He previously served as the Cultural Advisor to the Commander, 2nd Brigade Combat Team/1st Armored Division from OCT 2007 through OCT 2008 and was deployed with the brigade in Iraq in 2008. Upon returning from Iraq he served as a social science advisor in US Army Training and Doctrine Command's G2 (2009). He routinely provides operational support to a number of US Army, DOD, and other US Government elements. Dr. Silverman holds a doctorate in political science and criminology from the University of Florida, as well as masters' degrees in comparative religion and international security.

* An interstate war involves two or more sovereign states whose militaries are fighting in uniform under their states' flags with a minimum of a thousand battlefield deaths. Interstate wars will often include types of low intensity warfare, such as rebellions, revolutions, insurgencies, and terror campaigns on one or more sides of the conflict.
These chuckleheads need to get a grip. And they need to tone it down. They need to do so because they have no actual idea of what they're talking about. And they need to tone it down because what they're talking about, promoting on their TV and radio shows and appearances, and, as in the case of the NRA, in their magazines, all set the conditions for stochastic terrorism perpetrated by people like Hanson and Sayoc and Bowers who get the messages being transmitted, messages that justify taking matters into their own hands, and then go out and either try to or actually kill people.
* Finally, in case some lunkhead shows up in the comments and says "what about James Hodgkinson who shot up the Republicans softball practice?", that wasn't acceptable either. And it also isn't comparable unless you can show me a Democratic elected or appointed official, or major center left to left of center, liberal to progressive organization, elite, and/or notable who has been calling for Democrats, center left to left of center and liberal to progressive Americans to go out and start targeting Republican elected and appointed officials, as well as prominent conservatives as part of some imaginary civil war.