I was getting undressed for a nap at around six when someone knocked on the front door. I mentally thought to myself "You got to be fucking kidding me" because I knew it would be a pain in my ass because anyone I want to see will just knock and come in because that's just how things happen here. At any rate, I got dressed, went downstairs, and it was someone I had never seen before holding a clipboard and as I opened the door she said "Hi" and started her spiel.
Apparently she did not notice the mat she was standing on, which is pretty clear: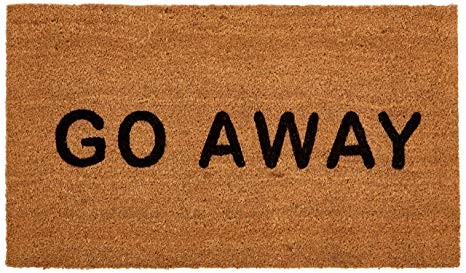 I interrupted her and said "I don't want any and how much is this going to cost me?" She just smiled and said "Well actually you might earn some money," and it turns out SWN wants to buy my mineral rights. I said "No, thank you" but she was persistent and talked about how much they wanted to pay me (something like 700 bucks or something) and I again said no, but this time added for clarity, "I oppose fracking."
She seemed surprised, which makes no sense, because there are a lot of people in my little community who oppose the bastards. At any rate, to review, the reasons I oppose fracking are:
1.) The motherfuckers refuse to tell us what they are pumping into the ground.
2.) They refuse to do due diligence for all the externalities they are creating.
3.) They lobby our statehouse and our reps and continuously get their severance tax lowered when it should be increased, because they already have sunk costs with all their wells and aren't going to abandon all the gas here.
4.) They have destroyed our roads and refuse to fix them
5.) There is a relationship between fracking and seismic events.
6.) Even when they sign a lease, they try to screw the people with whom they have signed the lease.
7.) i have probably lost 100 hours of my life sitting behind SWN flagmen who have stopped all road traffic while they do shit at their well sites and another 100 hours driving 12 miles an hour behind water trucks and other equipment.
8.) They lied about how many jobs would go to WV residents.
9.) They have fucked up rent prices for apartments because they bring in all these out of state workers who rent apartments, screwing poor people around here who have to basically live in shacks because rent is out of control now.
10.) MY SUBARU SAT IN A FUCKING FIELD FOR THREE MONTHS BECAUSE THEY RAN MY CAR OFF THE FUCKING ROAD.
With that in mind, when she asked me "why do you oppose fracking," I simply said "It's probably for the best if we do not go into that." And then I went inside and took a nap. I don't know how long she stood there.