Mr. Baron and Mr. Miller, you may recall, have a close relationship with the cheetoh-faced, ferret-heedit shitgibbon.
We don't know the name of anyone who may have displaced Miller and Baron in the Orange One's heart, but he is clearly keeping busy:
A total of 329 candidates — 217 individuals and 112 organizations — are being considered for this year's prize, which will be announced in October…

But a wrinkle in this time-honored process — the peace prize was first awarded in 1901 — emerged on Tuesday, when the committee announced that it had uncovered what appeared to be a forged nomination of President Trump for the prize. The matter has been referred to the Oslo police for investigation.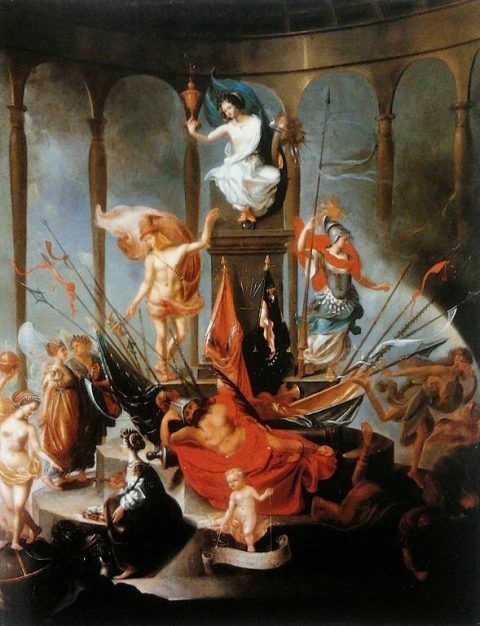 Mr. Baron or whatever the alias now may be is, it seems, a recidivist:
…the forgery appears to have occurred twice: Olav Njolstad, the secretary of the five-member committee, said it appeared that a forged nomination of Mr. Trump for the prize was also submitted last year — and was also referred to the police. (The earlier forgery was not disclosed to the public at the time.)
What kind of person is at once so disdainfully fraudulent and so hilariously inept at his con?  Who could it be?
Well…Trump, recall, was the man who put his lens-shattering mug in fake Time Man of the Year covers, so there's form here.
I'd file this one under "Point and Mock"…but then I remember that the entire GOP stands in thrall to this pathetic, hollow, terrified tosser.  And then I weep for the Republic, and worry, desperately, for my son.
(Also too:  I would so love an appendix to the Mueller Report dealing with all this.)
Image: Jacob Willemsz de Wet, Allegory of Peace triumphant over War, 1650