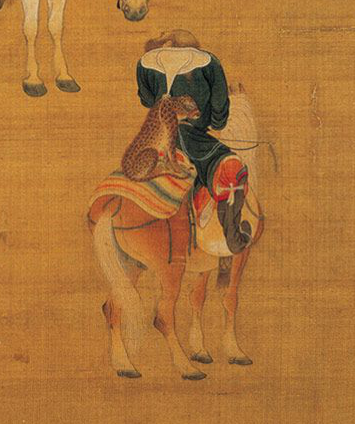 Can't stand the news anymore.  The FAA, Boeing, and the Trump shutdown — enabled by the GOP Congressional Kopromat Caucus — all contributed to the deaths of the Ethiopian Airlines 737-Max. Trump, risibly, fantasizes about thugs crushing…well, you and me.  41 GOP senators saying, "yup. Let's gut the Constitution and abandon the American experiment so that a wig-wearing, orange-faced, not-quite-good-enough-to-make-it-in-the-Mafia faux Don can dream walled dreams, all the while the world burns and the Trumpanzees seek only to throw coal on the flames…
Hell, the sheer erosion of my synapses is wearing me out.
Thus it was a relief to realize there is an alternative, a new leader to acknowledge and follow.
Ladles and Jellyspoons, my fellow jackals…
I give you Robot Cheetah, with backflips:
Happy Pi-day, everyone, from the omphalos of Nerdistan.
Open thread.
Image: A hunter on horseback, with a cheetah trained for hunt on the back of the horse (Detail of Khubilain Khan Hunting, painting attributed to Liu Guandao, about 1280)