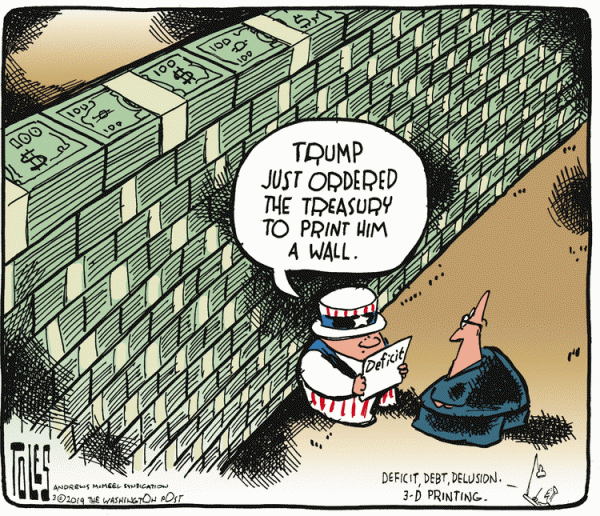 NEW POLL: Americans continue to overwhelmingly oppose Trump's #FakeEmergency! ??????https://t.co/JBquhSzs0L

— Nancy Pelosi (@TeamPelosi) March 13, 2019
The Repubs may be starting to regret their latest corrupt bargain. Greg Sargent, at the Washington Post, "After Republicans prostrate themselves before Trump, he humiliates them further":
… Senate Republicans have been searching for a way out of a very difficult jam. They will be forced to vote Thursday on President Trump's declaration of a national emergency. Yet, with four of them apparently ready to vote to terminate the emergency, this will mean Trump would have to veto the measure, enraging both the president and his voters.

So Republicans hit on a preposterously absurd scheme, in which they would vote on a measure that would place limits on future national emergencies — by requiring regular congressional votes to keep them going — without placing any limits on this particular one. This was supposed to give cover to Republicans, enabling them to stand with Trump's national emergency while creating the impression that they are generally concerned by the issues raised by the president's abuse of power.

But it now turns out that Trump is killing this effort, too…

Senate Republicans will now be forced to vote Thursday on the resolution terminating Trump's national emergency because the House passed one recently, and under the law, the Senate is required to act on it. And Republicans will not be able to vote to limit national emergencies later, to give themselves political protection from Thursday's vote.

To be clear on what just happened here, Republicans tried to come up with a way to give Trump the national emergency he wants, while also giving themselves a way to mitigate the political damage from it…
If any of the entrapped GOP members know anything about history, they might be meditating upon the idea that Caligula didn't appoint his horse to the Roman senate because he had such respect for horses.