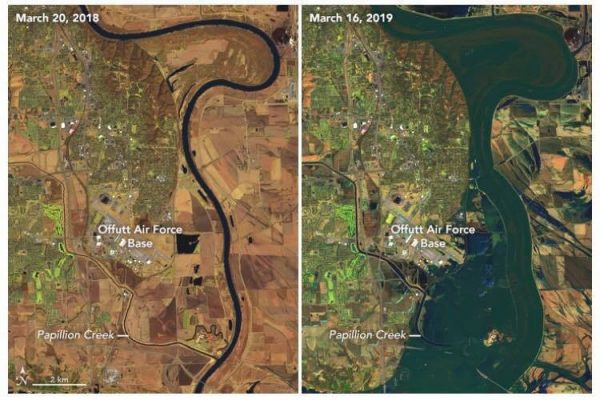 Offutt Air Base in Omaha had to move planes to Lincoln as the runways flooded. Side note: I was born there and pretty sure my blood runs Air Force Blue.
My brother and niece were stranded here. They came out for spring break and then the town they and my parents live in became an island as the Loup flooded and many levies broke. (The farmer who died when the bridge washed out is from there, too)
My sister-in-law is a nurse and couldn't get to work because all roads out of town were underwater. She finally made it to work through a three-hour route (she's twenty minutes from it normally) and my brother made it home yesterday with just a few long, out of the way roads.
More roads are opening up, but many highways are with escorts only.
The Nebraska State Patrol is posting some great photos. Here are their animal rescues:
He seems to be enjoying the boat ride.
You've come to save me? I love you.
And this haunting photo was not far from where my parents (who are thankfully dry  – even though they live next to a levy):
The little town of Genoa had to completely evacuate. This is one of their bridges.
Here's the Governor flyover video:
I know we have some Nebraska and Iowa jackals, are you all okay? Anyone at risk as all this water moves downstream?
But you know…climate change is a liberal conspiracy.