I contend that monopolistic insurers in the ACA market are able to shape their risk pool. They have multiple means to implement a strategy. They can use networks. They can use benefit design. They can use formularies.
In Mississippi, you cannot play a lot of the games that can be played with a healthy pool in other places. Is a narrow network going to eliminate your town's only hospital? Are people really driving to Children's Hospital if they do not live near it or have a child with cancer or some other major issue that can only be addressed there?
Really good comment, and I want to highlight one strategy an insurer can use. They can play spread games. I will make the simplifying assumption that actuarial value correlates to premium level and we're using a single unified actuarial value scale instead of metal specific scales. I am also assuming a single network and the same plan type for all plans (it could be an EPO, HMO or a PPO, does not matter). I am isolating on plan designs.
The first strategy is a low AV and low spread strategy.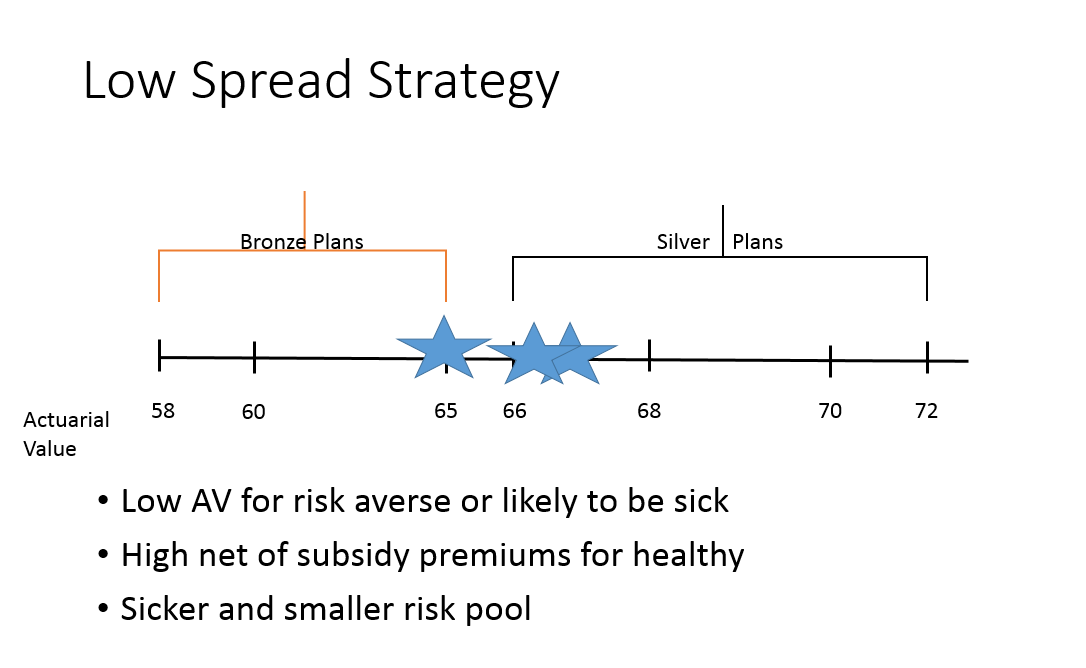 Here the benchmark Silver Plan is near the bottom of the allowable actuarial value range for Silver plans. The cheapest Silver is barely below the benchmark while the insurer is only offering a single Bronze plan. Since we are looking at a monopolistic insurer, there is no competetive pressure that dictates these choices. These choices result in high out of pocket costs for everyone, and since subsidized premiums are predicated on premium spreads, the lowest actuarial value plans won't be too much cheaper than the benchmark. The healthy and risk embracing won't see too many good deals.
The other strategy stretches everything out.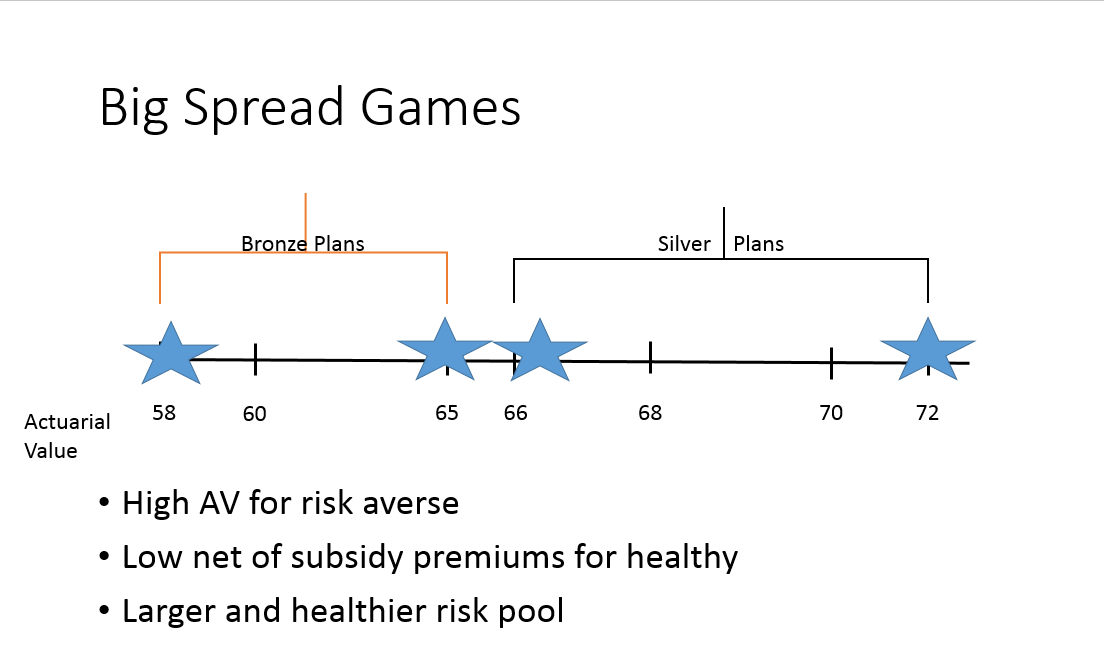 Here, the benchmark Silver is near the top of the allowable range. The cheapest Silver is near the bottom of the allowable range. There is a big spread here which means the Silver Gap is large. More importantly, the carrier is offering two Bronze plans. One is still near the top of the Bronze range. The other is near the bottom of the Bronze range. This means that there is a huge actuarial value gap between the cheapest plan offered and the benchmark. Consequently, the healthiest and most risk taking folks will see very low to no dollar premiums if they qualify for subsidies.
It does not matter if the insurers are Silver Loading or Broad Loading their CSR response. It does not matter if they are offering an HMO or a PPO. It does not matter if they are in a high cost state or a low cost state. A single insurer state can strategically choose the premium spreads between the benchmark and least expensive Silver and non-Silver plans.
Wyoming has chosen a big spread strategy. Mississippi has chosen a small spread strategy. These are deliberate choices.
2019 Premium Spread from Benchmark to least expensive plan in each metal band 40 year single non-smoker

| State | County | Metal Level | Maximum Benchmark Spread |
| --- | --- | --- | --- |
| MS | Neshoba | Bronze | ($60.00) |
| MS | Neshoba | Silver | ($59.00) |
| MS | Neshoba | Gold | $93.00 |
| WY | Laramie | Expanded Bronze | ($265.00) |
| WY | Laramie | Bronze | ($236.00) |
| WY | Laramie | Gold | ($136.00) |
| WY | Laramie | Silver | ($6.00) |