Y'all were so helpful last time I mentioned I was looking for budget design tips as I redecorate this ramshackle money pit. So, I thought I'd go to the well again, only this time for your advice on a specific design challenge.
Our master bedroom closet has these horrible mirrored sliding doors — two doors that are collectively 6 feet wide and 6 and 1/2 feet tall and trimmed in a hideous gold-like color. It's not a particularly large room, and these awful mirrors dominate the space.
I can't afford to replace the doors, but I've got to do something to cover the damned mirrors. I would have hated such a feature in the 80s, back when the doors were first installed by the previous occupants, because it's fundamentally tacky, IMO. But 30-some years later, not only is it still tacky, such reflective capacity is positively bracing for the middle-aged. The mirrored doors must go!
And yet I can't afford to replace them, so covering the mirrored surfaces is the only option. I've looked at opaque window film online, and there are patterns that mimic the look of glass tile and so forth. But since they're made for windows, they're designed to make the most of the light that will stream through. Barring a ceiling collapse, no light will be emanating from our closet.
Also, I'm not sure I want a patterned element to cover that much space in a small room. But a solid color seems a bit drab. I like the look of sliding screen doors, sorta like this: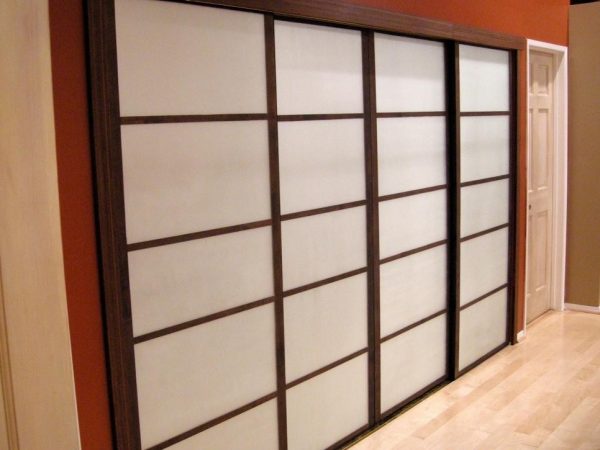 That photo is from an HGTV episode about this very problem, but they have more of a budget to solve their design conundrums than I do. Honestly, I'm not sure I could pull off that look with, say, textured wall paper and fake wood strips. Thoughts, ideas or advice?
Otherwise, open thread!