As everyone starts their spin, the President prepares to tweet or do a press gaggle with the traveling press pool as he flies back to DC, rending of garments, gnashing of teeth, victory laps, and celebrations depending on one's political views and perspectives, I wanted to just make one quick point. The letter that Attorney General Barr sent to Congress today is his summary of Special Counsel Mueller's top line findings, they are not actually Special Counsel Mueller's report, nor are they the executive summary to that report. That does not mean that Attorney General Barr is misrepresenting the Special Counsel's findings in his letter. It does mean that the Special Counsel, his personnel, the Attorney General, the Deputy Attorney General, and their personnel advising on this since Friday afternoon are the only people that have actually seen Special Counsel Mueller's report.
https://twitter.com/ktbenner/status/1109908873408901123
Katie Brenner, who is The New York Times reporter assigned to the Department of Justice, makes this very clear. Attorney General Barr's letter to Congress today was prepared without any consultation or input from Special Counsel Mueller. This is his interpretation of the Special Counsel's report, which, again, has only been seen at this point by the Special Counsel, his personnel, the Attorney General, Deputy Attorney General Rosenstein, and the personnel from the Office of Legal Counsel that advised them on preparing his letter to Congress.
Until the Special Counsel's report is actually provided to Congress and made public, we have no way of actually knowing if the Attorney General's interpretation of the report, or his and Deputy Attorney General Rosenstein's determination that obstruction of justice charges could not be brought based on what the Special Counsel's Office had reported to them, are accurate. Especially as both the Attorney General, because of the unsolicited assessment he submitted to the White House Counsel regarding the accusations of obstruction of justice and the Deputy Attorney General's involvement in providing justification for terminating FBI Director Comey, create serious conflicts of interest for them in making that final determination regarding whether the President obstructed justice. We also won't know, until the report is made public, if the Special Counsel concluded, per footnote 1 on p. 2 of Barr's letter, that there was no tacit or explicit conspiracy between the President, members of his campaign, and/or his other surrogates and/or employees with the Russians to interfere in the 2016 election because he just couldn't find any or enough substantiating evidence or because he was lied to and that evidence was destroyed and actions covered up to prevent him from finding it.
This is a complicated and problematic decision for both of them. Before he took office, Barr wrote a memo preemptively attacking the obstruction component of Mueller's investigation. Rosenstein was part of the conduct (firing Comey) that the investigation would have examined.

— southpaw (@nycsouthpaw) March 24, 2019
Reading between the lines in the next paragraph, particularly "in our judgment," it appears the obstruction case was a close call, and Mueller did not give them even the thinnest reed of his own conclusions to hold onto. Barr and Rosenstein are out on a limb on their own on this. pic.twitter.com/w3KbXJdxbn

— southpaw (@nycsouthpaw) March 24, 2019
Attorney General Barr's Letter is below.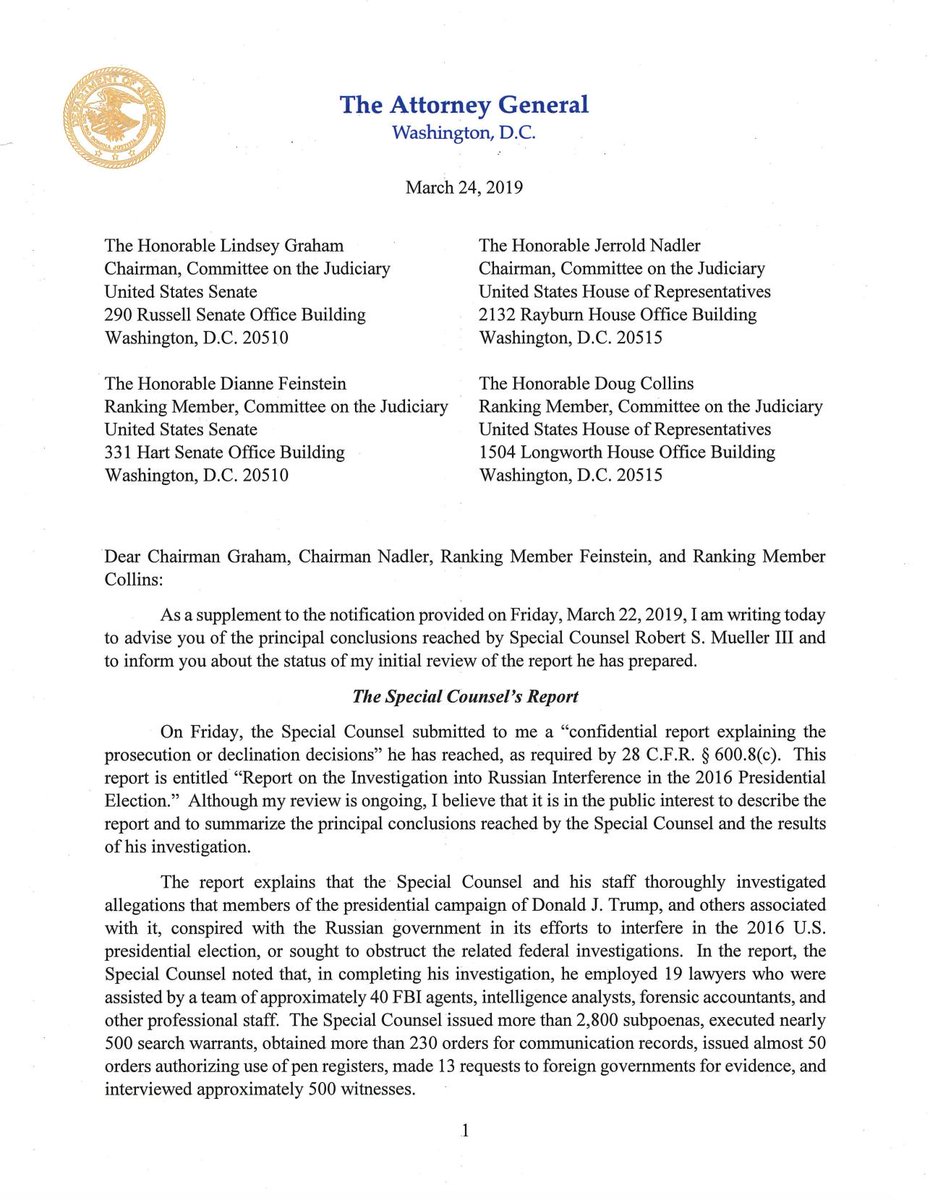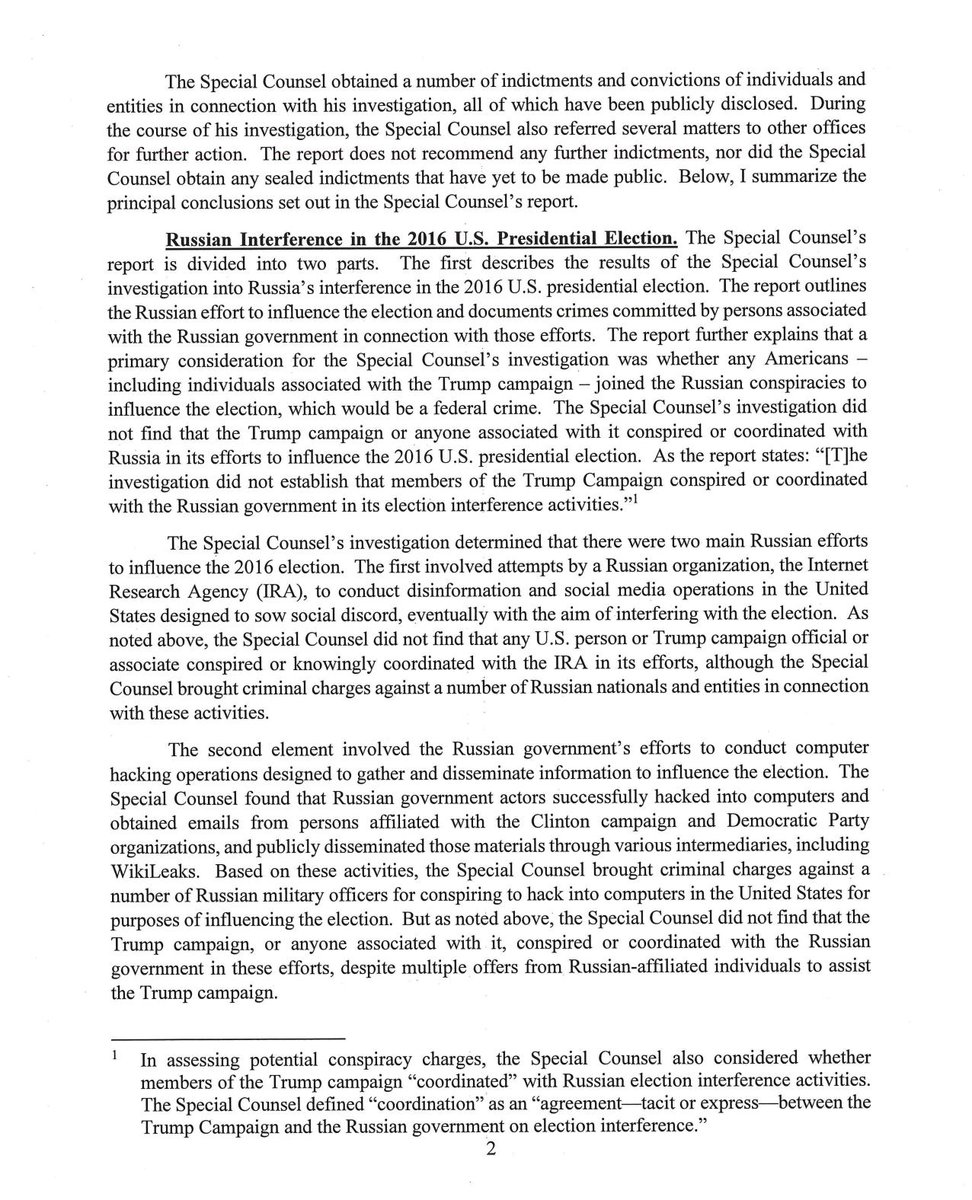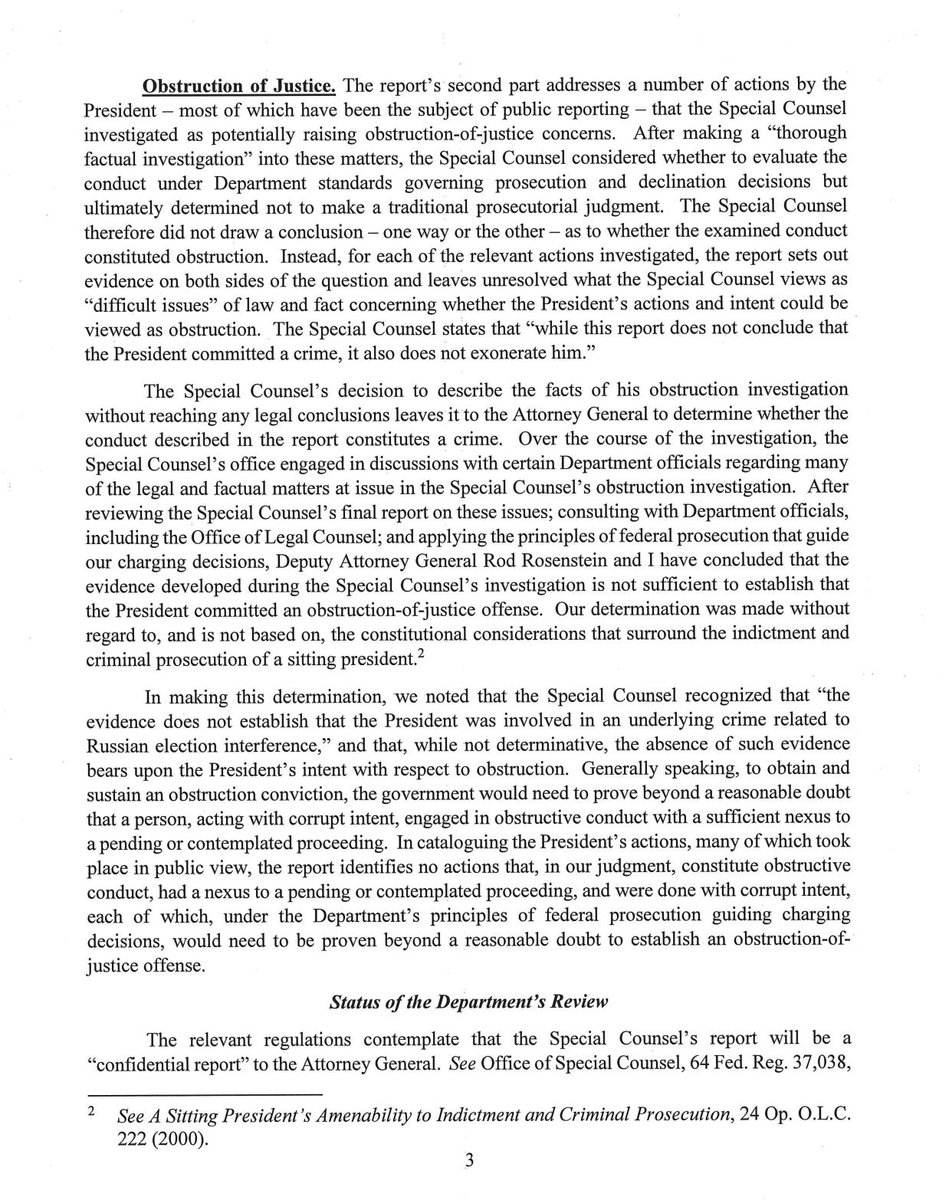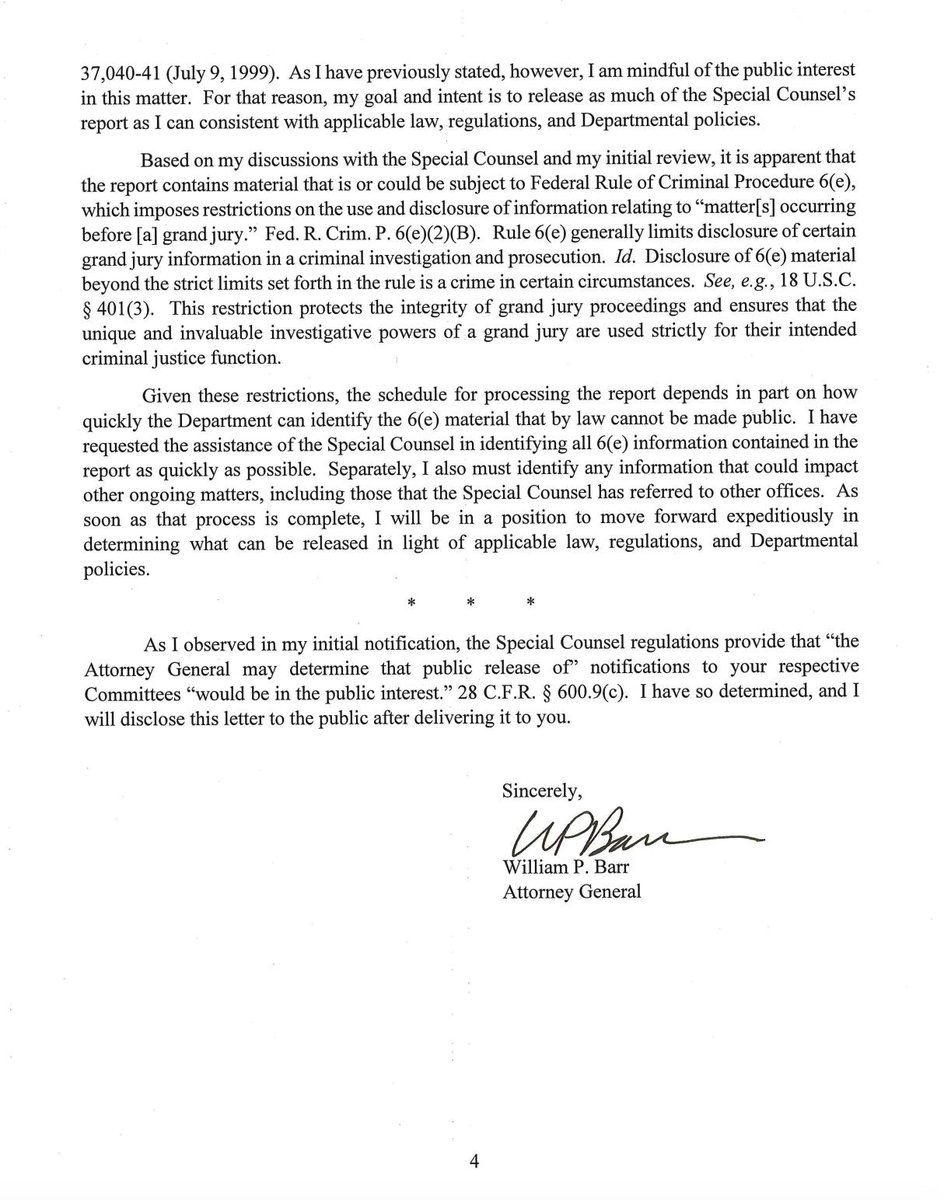 Until or unless Special Counsel Mueller's report is made public, we do not actually know much more than we knew two hours ago.
Open thread.