Welcome to another writers chat.  Today WereBear was gracious enough to write up her adventures in creating a print version of her book, Way of Cats: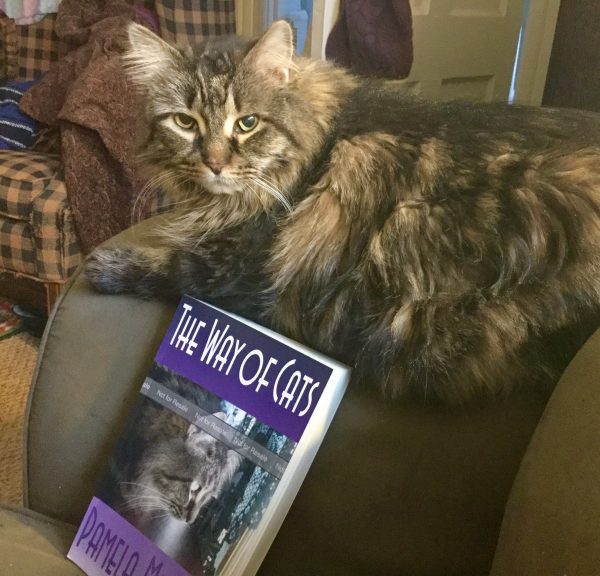 Photo is of cover boy Reverend Jim posing with a proof copy. The book tells his story, too!
I got my paperback out on Amazon. And lived. Yes, it was often that tricky. But the result is excellent, so let me chop off some of that learning curve for you.

As a voracious reader who enjoys ebooks, I was surprised to discover that fully 80% of the market is still paper. Especially for non-fiction, like my cat advice book. The Amazon system does a good-looking trade paperback when it is supplied with the proper inputs.

Fortunately, Mr WereBear is an Art Director (like Marines, they never really leave) and made me an excellent cover. His advice is to download their template and pay close attention to all the margins of the different areas. The online preview software will give an error message if it finds anything amiss, and this let us iron out some bugs.

Amazon offers cover creator software for free, but my Art Director found them aesthetically offensive. They also all tend to look alike. I find myself avoiding such covers as signs of an amateur approach I've found reflected in the writing. In such cases, readers do judge a book by its cover! If you have no such art skills, fellow Jackal jacy is an excellent choice, with reasonable rates. I hired her for a quick, tricky, thing when the Art Director's chronic illness flared up. She's so responsive and easy to work with. I also love her covers.

Another hill to climb is the decision to get an ISBN or let Amazon handle it. Be aware that the free one from Amazon is only good within Amazon. We went to Bowker for the official US ISBN for my book, and then paid again to turn it into a bar code. Then paid for another bar code when I screwed up the math and we had to change the price of the book. Amazon does supply the printing costs, and I suggest using a spreadsheet to get the math right. :)

Another issue with printed copies is that someone will need to go through it, in Word or Pages, to create a table of contents. Both of these programs will let you highlight a chapter title, choose the format type "Chapter Title", and then it will show up in an automatically updating Table of Contents.

Amazon lets you download a template for the inside, too, and I highly recommend it. There's so many details that pasting chapters into the template will save time, because the margins, page numbers, and various formatting types have been set up for you. My Art Director said people shouldn't mess with the basics too much.

In other words, don't get jiggy with those fonts, people. You want the reader to enjoy your words, and not let the formatting get in the way.

Once everything is loaded into the Bookshelf, there's the option to download a PDF version of the entire book. TAKE IT. It is set up in double page style, looking exactly as it is supposed to print, and I borrowed a different computer to read it like it was the first time, and I found stuff to fix.

You will find stuff to fix. Use PDF markup to track errors to fix in the word processing document. I found that seeing it this way "reset my head" and I was able to fix all kinds of things which had gotten by myself and two other people in previous run-throughs.

At the very end, before releasing it into the wild, there's the option of ordering a proof copy or two. TAKE IT. We discovered that our photos (black and white and optimized) lost some definition on the cream paper we had chosen. We changed our settings to white paper, with a glossy cover, and it looks great. We've gotten compliments!

It's a mental gear change that doesn't come up with ebooks, where what we can do is limited by ebooks' ability to change font, size, and flow on the device, and there's software that does a lot of things, like Table of Contents, for you. But with readers wanting "something to hold in my hand", all that extra effort adds up to extra readers.

That's what we all want.

Some important links: Bowker    and    Alchemy Book Covers
Thanks, WereBear!
Time to chat.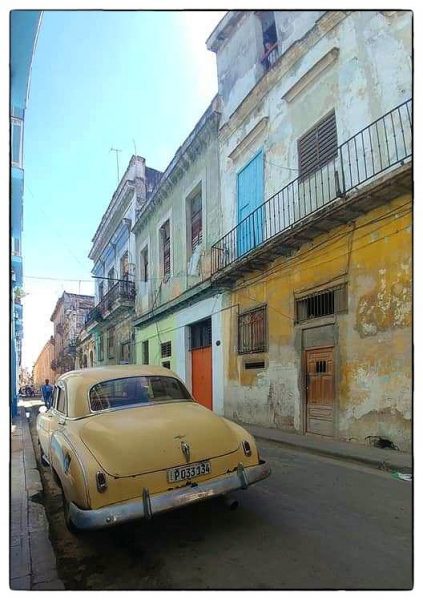 I'm about ready to add my Havana trip adventures to the second book in my trilogy.  I've been having a rough time focusing on writing these days. Not exactly writer's block, more like ennui. I love writing, but right now, I'd rather be outside walking the dogs, or doing almost anything else. I have a desire to slap myself and say "Snap out of it!" à  la Cher in Moonlighting and just get back to it. I suspect that might not be the best approach.
How do you handle dissatisfaction and/or a block in your writing? Where is everyone at on their projects? Any questions for WereBear?
Have at it! Be kind.