"Yoopers" embrace endless winters along Lake Superior.

The proof is in the pictures. https://t.co/7tireeY5lN

— The Washington Post (@washingtonpost) March 23, 2019
The first of our daffodils have opened, near the south-facing front window that leaks heat. They're not looking very prosperous — I suspect because it was a cold winter without the usual snow cover to protect them. But they're showing defiantly yellow against the brown-grey winter detritus, and here north of Boston that means we can generally assume that Spring is due, give or take one last 'surprise' snowstorm.
Otherwise, I wouldn't have the courage to share (nor, I suspect, the Washington Post to publish) this entertaining but also terrifying photo-essay on the proud winter sportspersons of Michigan's Upper Pennisula:
Yoopers, a name for residents of the Upper Peninsula of Michigan, don't just endure winter, they embrace it, creating plenty of outdoor fun during their months of never-ending cold and snow.

The Upper Peninsula of Michigan is one of the coldest and snowiest regions in the United States. Snow can fall from October until May, producing 150- to 300-plus inches of snow a year. Much of the snow falls as lake-effect snow, which occurs quite frequently, particularly in areas near the southern shore of Lake Superior. It's not uncommon for snow to fall during five or six months of the year.

So what's their secret to surviving and embracing their long, cold winters? Yoopers have learned to dress for the weather and accept their frigid, frozen fate with a good attitude. Cold and snow is just a part of life in the Upper Peninsula of Michigan, much like heat and humidity is part of life in Florida.

And it's possible a few of them may go just a little crazy during those long winter months, if the photos above and some that follow don't make that obvious.

Devon Hains, a photographer who shoots surfers in the frigid water of Lake Superior during winter, took some amazing shots during the peak of the polar vortex last January when temperatures plummeted below zero in Michigan.

I asked Hains how the surfers keep warm in such cold temperatures? "They use a 9 mm thick wetsuit and keep a five gallon jug of hot water in their car nearby so if they ever experience an influx of cold water into their suit, most often in a boot, they can pour hot water into their suit and head back out," he responded…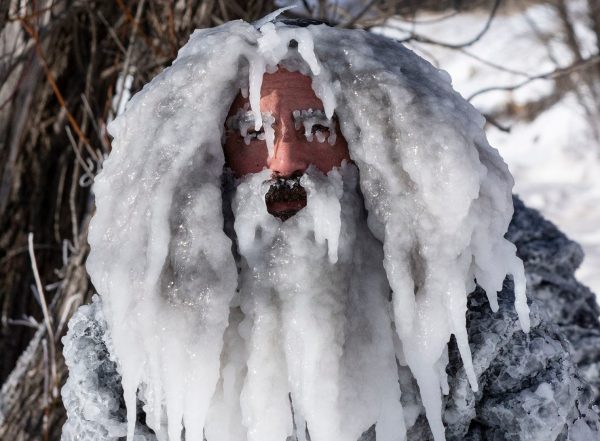 Devin Hains, Washington Post
I managed to live in Michigan for fifteen years without ever visiting the UP. In my defense, my first freshman roommate was a proud Yooper, and it took her as long to drive home to Iron Mountain (on the far western side) as it did for me to drive back to the Bronx, partially because the NYC-bound roads were in rather better condition.