I am skipping over the memo by Attorney General William Barr to wait for the full Mueller report before I start parsing sentences and paragraphs.
I would like to remind us all of Rod Rosenstein's charge to Robert Mueller as special counsel. Here is the meat of it.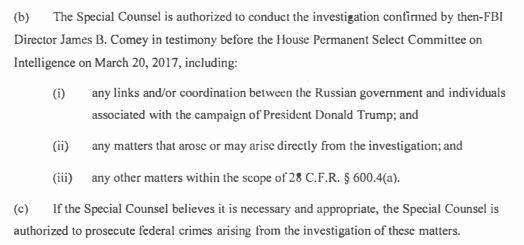 The scope was open and potentially wide ranging. But time was important – The report needed to come out before the 2020 election campaign to avoid the mess that Comey stumbled into in 2016. It seems reasonable for Mueller to have defined his scope tightly.
That scope could include prosecuting federal crimes, as in (c), but that was not the primary objective. The investigation mentioned in paragraph (b) was a counterintelligence investigation, for which ascertaining the facts of the case relative to (i) any links and/or coordination between the Russian government and individuals associated with the campaign of President Donald Trump.
This was an investigation, not a trial. So claims of exoneration and expectation of a case for guilt are equally inappropriate. On possible obstruction of justice by Trump, Barr quotes Mueller as not making a judgment.

Mueller's investigation resulted in 199 criminal charges, 37 indictments or guilty pleas, and 5 prison sentences. Many of those, like against Michael Cohen for paying off women who had had sex with Trump, seem peripheral to the question of Russian involvement. It's possible that they were obvious enough and perhaps could motivate witnesses to speak on other matters.
Many expectations of Mueller's investigation were unrealistic. It was never intended to verify or disprove the material in the Steele dossier. Apparently Mueller did not feel it was intended to be an exhaustive examination of all possible Russian links, although the words of the charge seem to allow for that. The large number of Russian attempts at linkage and coordination may have precluded such an exhaustive examination within the time available.
That is an issue on which the report itself is essential. We have seen many actions suggesting that there was interest on the part of the Russians and the Trump campaign in actions that would hurt Hillary Clinton. We need to understand why Mueller concluded there was no linkage or coordination.
The report in no way absolves Trump of possible violations of the Constitution's emoluments clause, inappropriate granting of security clearances to his children and other nepotism, his constant lies, his erratic and dangerous conduct of foreign policy, his understaffing of the government, and possible human rights violations like separating families seeking asylum at the border.
Impeachment never required that Mueller charge Trump with statutory crimes. Such a conclusion would have been convenient, but Trump's malfeasance in office continues. Now it is up to Congress to decide what comes next.