This weekend was the anniversary of the nationwide March for Our Lives rallies led by survivors of the massacre at Marjorie Stoneman Douglas High School in Parkland, Florida. It seems much longer ago somehow. Here's Emma González's speech at the event last year:
She doesn't speak for most of her time at the microphone, commemorating with her silence and tears the six minutes and change it took for a deranged shooter with an AR-15 to end 17 lives. Then she said this: "Fight for your lives before it's someone else's job."
I went to a local March for Our Lives event last year, as did our late jackal friend Schlemazel. He sent me some photos of the march he attended in Minnesota, including this one: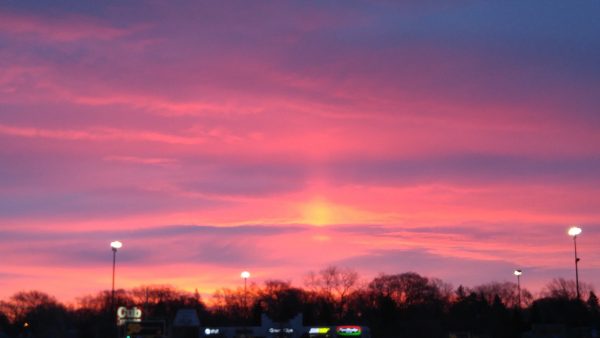 Here's what he wrote about it:
"It was a gorgeous sunrise this morning and it gave me hope."
The March for Our Lives founders went silent on the anniversary of the massacre last month. Via The New Yorker:
"It's about recognizing that we need to take time for ourselves because we've been going so strongly for the past year without a breather," Jaclyn Corin, a senior at Stoneman Douglas and one of the co-founders of the movement, told me in a recent phone call. "We're giving ourselves that time to be with our friends and our family."
It still amazes me that those students were able to pull together a movement that resulted in nationwide rallies just a little over a month after the trauma they endured.
The cost was terrible for all of them, and for some, it was unbearable. Last week, two Parkland students committed suicide. The father of a murdered Sandy Hook first grader, a man who created a foundation to prevent violence through research in the wake of his daughter's senseless killing, was found dead today; he also apparently took his own life.
Those three names won't be added to the tally of the victims of mass shootings in America, but they're part of the toll. So now, speaking up for gun safety is our job, not theirs.
Open thread.