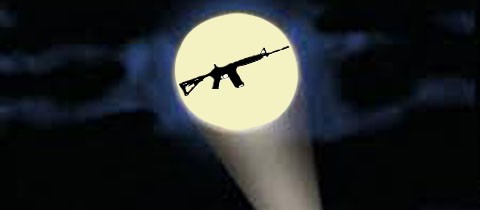 We already knew the National Rifle Association laundered Russian money and spent $30 million to elect the corrupt and incompetent Trump and millions more to stock Congress with spineless toadies like Marco Rubio. This ensures that a dwindling cohort of gun-humping nutbags prevail in policy decisions over the will of the American people.
Now there's proof that the gun manufacturers' lobbying organization actively works with crackpots to harass and defame survivors of the inevitable massacres that occur as a result of those policies. Via The Post:
In the week after a gunman opened fire at Marjory Stoneman Douglas High School in Parkland, Fla., killing 17 students and staff members and renewing calls for gun control, the National Rifle Association fell silent.

But the day after the Feb. 14, 2018, shooting, an NRA training coordinator based at the group's headquarters in Fairfax, Va., sprang into action behind the scenes. He sought information countering the official version of the grisly, and familiar, events, which involved a lone gunman and a legally purchased firearm.

For support, he turned to Wolfgang Halbig, a conspiracy theorist intent on proving that the 2012 shooting at Sandy Hook Elementary School, which left 26 students and staff members dead in Newtown, Conn., was a hoax.

"You have included me with a lot of Information since the Sandy Hook Incident and I do appreciate it very much," the NRA coordinator, Mark Richardson, wrote on Feb. 15, 2018, according to emails published by HuffPost on Wednesday. "Concerning what happened in Florida yesterday, I have been asking the question and no one else seems to be asking it."

He pushed the deluded idea that the gunman, a former student at the school, had not acted alone, posing questions about how he had gained entry and where he had kept his equipment…
In a sane country, it past misdeeds would have already made the NRA more toxic than a Chernobyl urinal cake, and no politician would dare accept a dime from it for fear of massive constituent backlash. In this country, not only do Republicans at every level continue to eagerly accept millions from this vile propaganda outfit, the current Republican president spoke at its convention last year, and he and his VP invited one of the blood-gargling sociopaths who lead the NRA to the White House immediately after the Parkland massacre to weigh in on policy, if not write drafts of legislation outright.
I understand the House Democrats are busy sifting through the mountainous evidence of the Trump administration's unprecedented corruption. But I do hope they find the time to investigate and expose the NRA's financial malfeasance and psychotic attempts to foment hatred toward victims in its fanatical cult following. Wiping that wretched hive of scum and villainy from the political landscape would not only strike a blow for good governance, it would be a favor to humanity.