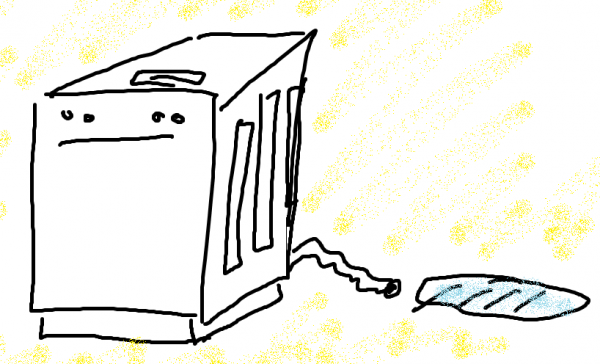 We've got a dishwasher again, hallelujah Jeebus. It's not installed yet. It isn't even upstairs where it will eventually live. But it's here, and after washing dishes by hand for five months — including after holiday dinners for 18 people — I'm thrilled that it will be installed this weekend, even if installation will be a knuckle-scraping bitch.
It's not that I mind washing dishes by hand all that much. Over the holidays, I cut down on the volume by serving meals on extra-fancy disposable plates and had plenty of help with washing up. But what I love most about dishwashers is that they give you a place to stash dirty plates, cups, utensils, etc., out of sight until you're ready to run the appliance instead of either constantly washing dishes or enduring the nagging guilt of dirty dishes in the sink. Maybe it's just me.
Anyhoo, when we moved here last fall and discovered that the dishwasher that came with the place was a piece of junk, I thought it would be a simple thing to have it replaced. The mister and I have installed a dishwasher or two in our day, cursing and nicking up countertops and mashing fingers along the way. But when we had to replace a dishwasher at our old house a few years ago, I called Home Depot, and they brought a new one, installed it and hauled the old one away. I enjoyed that experience more than the DIY approach, so I had hoped to replicate that here.
But I soon discovered that there's a hidden dishwasher industrial complex that is intent on funneling customers to expensive machines if they want the full service treatment. Basically, you have to buy a top-of-the-line machine to have it delivered and installed, but the home improvement people won't just tell you that. They employ devious cons to steer you toward the high-dollar merchandise, and they flat-out lie and make you question your own sanity.
Our local Lowe's, the closest big-box, had a unique strategy; the woman I spoke to there simply pretended that there is no such thing as a dishwasher in the size I require (a weird size, to be fair) under $700. I knew this to be untrue since I'd Googled machines earlier and seen them listed for less than $400, but she brazenly told me to my face that the products I'd seen online did not exist. While the conversation quickly established that Lowe's doesn't carry them, I knew I'd seen them somewhere. I tried to use my phone, which was connected to the Lowe's courtesy WiFi, to search Home Depot's product line. But the fuckers block competitor websites, and cell service is non-existent inside the store. So, I left.
Once back home, I found the under-$400 dishwashers listed at Home Depot. Okay, I thought. It's a little further, but they have the dishwasher I want. I tried to order it online and use the Home Services thingy to order installation and removal as well, but the page kept crashing. So I called Home Depot, and the person I spoke to there said it was because I was trying to order a dishwasher that didn't exist. I got a glimpse of the Matrix in that moment, and it shook me to my core.
Wait, I said, to the Home Depot dude — here's the SKU — I'm looking right at it on your website! I swear I am not crazy — it's real! What's the brand, he asked. I told him. Never heard of it, he replied. But-but-but the SKU, I remonstrated. I'll look into it and call you back, he said. He did call back, and while he claimed he believed me when I told him this dishwasher existed on the customer-facing Home Depot site, he told me it did not exist on the internal Home Depot site.
I was given to understand that the product I was trying to acquire is an un-dishwasher that cannot be ordered by store personnel and paired with a delivery and installation package. I asked if I could order it to be delivered to my house and have someone from Home Depot meet the appliance here, install it and haul the old one away. Nope, he said. You'll have to arrange your own handyman. Or order a $700 dishwasher, which we'll be glad to deliver and install.
Well, fuck that noise. I ordered the damned dishwasher, which arrived yesterday via UPS. The UPS dude was kind enough to cart it to the downstairs storage room. This weekend, my husband and I will schlep the damned thing up the stairs even though we're too goddamned old for that sort of thing, and then we will install it, cursing and nicking countertops and mashing fingers and hopefully not electrocuting ourselves or flooding the house. Then we'll haul the old one off ourselves. Because that's how the dishwasher industrial complex works.
Open thread!