First things first- it is pretty clear that I need to spend more time around here in the comments and whip you fuckers into shape, because I don't know when we became such delicate fucking flowers. Judging the reactions to the post about Pete Buttigieg below, you all would think I killed the man in a hate crime then pissed on his grave. Fer fuck's sake, people. I like the guy and donated and right now he's in my top tier of candidates.
But let's be real, here- if one nasty op-ed from a Bern-or-Bust guy is all it takes to sink his candidacy, maybe, just maybe, he doesn't deserve to be the nominee, let alone President? I don't agree with everything in the piece, some of it I found interesting, particularly in how other people may view him, but it's just some guy's opinion. I like to read differing views about shit. If I didn't explore what other people said about things and then MAKE MY OWN FUCKING DECISION, I'd probably still be a god damned Republican, and lemme assure you, no good can come from that.
We've got a lot of great candidates- let's look at them warts and all. And you can't be afraid of what Republicans and the media are going to say in the general election, because THEY ARE GOING TO SAY IT ANYWAY. So just simmer down and roll with the punches. Y'all re going to have a heart attack and the way things are going, we Juicers are dropping like god damned flies as it is.
Second, the bathroom downstairs is a new color: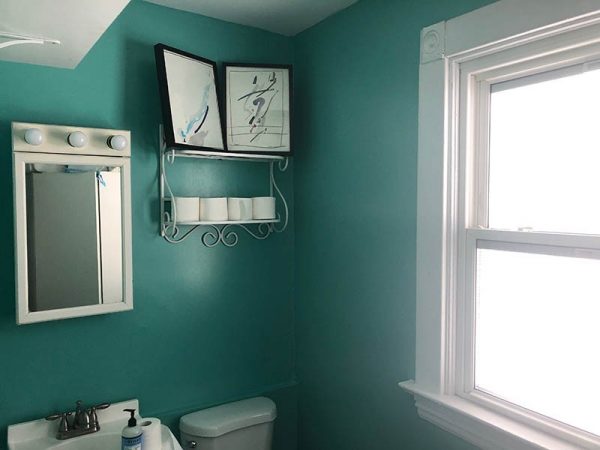 It used to be the same powder blue color as the kitchen, but I was tired of it, so I just went in to the local hardware store and picked out a color. Fuck it. If I on't like it after a couple of months, we'll just change it again. For now I like it. Oh- the color is intercoastal by Valspar. It's darker than I expected. Also I hate that mirror/medicine cabinet but it came with the house so it is there for now until I find something cheap that I like.
Third- Any suggestions on how to clean a mattress? I was changing my sheets and the bed was uncovered, and Thurston went outside, came back in, and got dirty pawprints all over the mattress. Just a normal detergent with a damp cloth?
That is all. Continue your Sunday.