More women coming forward about Biden:
Vail Kohnert-Yount said she was a White House intern in the spring of 2013 and one day tried to exit the basement of the West Wing when she was asked to step aside so Biden could enter. After she moved out of the way, she said, Biden approached her to introduce himself and shake her hand.

"He then put his hand on the back of my head and pressed his forehead to my forehead while he talked to me. I was so shocked that it was hard to focus on what he was saying. I remember he told me I was a 'pretty girl,' " Kohnert-Yount said in a statement to The Post.

She described feeling uncomfortable and embarrassed that Biden had commented on her appearance in a professional setting, "even though it was intended as a compliment."

"I do not consider my experience to have been sexual assault or harassment," she stated, adding that she believes Biden's intentions were good. "But it was the kind of inappropriate behavior that makes many women feel uncomfortable and unequal in the workplace."
I don't like people touching me without permission- why is it so hard to understand that women may not want to be touched by Biden? I mean, personally, the list of people I want to touch me includes my doctors and nurses, my LMT, the ladies at the nail salon, and maybe a handful of other people. The end.
The thing about this that is so vexing is that I don't think Biden is some sort of old pervert who is doing this out of some sexual perversion. I don't think he is trying to dominate these women or do anything like that- I've seen video of him hugging it out with guys and invading people's personal space. And I don't think the women coming forward are doing this out of political motivation (I've seen people suggest Lucy Flores is a big Bernie supporter so that is why she is doing this), particularly since most of the women who have come forward have specifically stated that they like the guy and don't think it was sexually motivated. It was just inappropriate.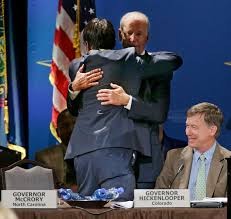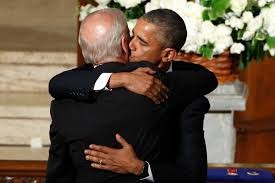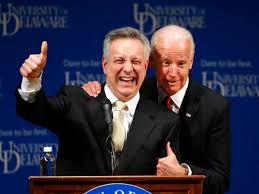 I mean ffs just google "Joe+Biden+hugging" and you will see that if something has been alive in the past seventy years within five meters of Joe Biden he has hugged the fuck out of it. He's a jocular guy and he's handsy as fuck and it worked well in retail politics for him for years. But that doesn't make it any less inappropriate. And it doesn't mean that this shit isn't going to be electoral poison.
Just don't fucking touch people.