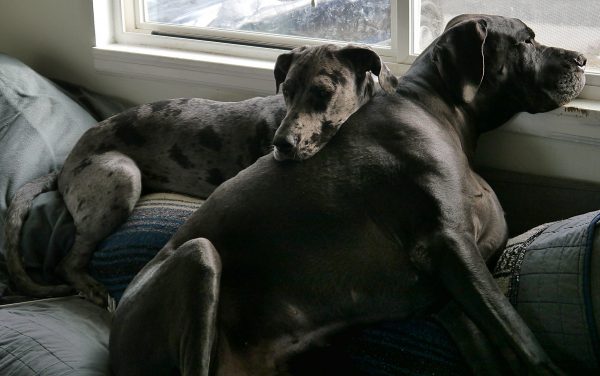 Scout loves using her Bixby as her personal  pillow
Bixby had another bout of a bacterial gastric event that he had last year. I'll try not to get too graphic, but blood in his vomit and bowels sent us to the emergency vet, as my vet had two surgeries he couldn't' reschedule. Turns out that's not uncommon with an inflamed gut.
I was thinking we were going to get away with a few meds and be on our way. His blood work was perfect, his heart and BP were in the safe zone. And then they brought him out to me. He couldn't stand, kept falling over and was confused and lethargic.
The emergency vet sent him home anyway, despite my concerns – the least being how I was going to lug around a woozy 160 lb Dane. They said to watch him and bring him back if he got worse. We won't discuss the words I used both in my head and in person.
By late afternoon, he was no longer able to walk and a return to the vet was not possible. Our best guess is that he either had a serve allergic reaction to the anti-nausea shot or they hit/pinched a nerve in back. He has not been able to walk since.
He's eating, drinking, etc and on the mend that way, so we are 1/2 way there, I guess. My vet has kind of thrown up his hands and left us on our own.
I've now put in a call to a DVM that is also certified in chiropractic and acupuncture, hoping she'll make a home visit and help evaluate him. If he's just jammed his neck or shoulder when he kept falling, she should be able to help. Worst case scenario is when they did the subcutaneous fluids, he might have suffered a spinal stroke which would be a devastating diagnosis.
While we wait for some resolution, we could use your good thoughts, good energy and prayers (if that's your thing).
I'm on day three of little sleep and can't even imagine what might come next. Basically I just breathe in and breathe out and lay on the floor next to the big guy.