The only thing that made me laugh out loud in the past few days:
That's …….. that's not how fire works.

— NotOutlandishHat (@Popehat) April 7, 2019
The whole thread is full of win. If you need a laugh.
Here's the big guy: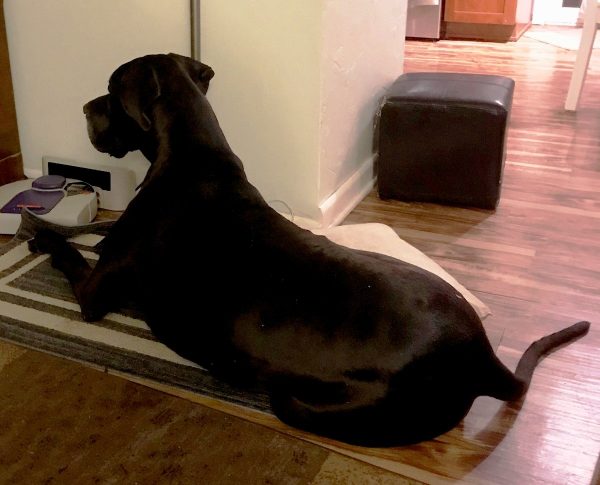 I know you are all looking for a Bixby update. It's a pretty dire situation, although I think we may have gotten lucky. He had a rare and yet devasting reaction to the anti-nausea medication. So rare, it took a lot of research and ignoring a lot of veterinarians and trusting my instincts to figure it out. Because of course, I watched it happen in real time.
The outlook is murky because the few dogs or cats it happens to are euthanized within a week because it looks like they have had some type of massive traumatic event without a real diagnosis, there is a lot of guessing and expensive, negative tests.
But the dogs that fought through it see recovery within a few weeks, with a long rehab after that.  Bixby has been fighting since day one – he literally crawled outside the first day when I wasn't looking.  I've now put up the baby gate. He doesn't want to potty in the house. Such a good boy. I've sacrificed the large living room area rug without even a thought. Easy to replace. I haven't seen my bed since Tuesday. I've had a revolving door of people helping out and one friend who has definitely gone above and beyond to help out. Bixby is loved.
He's regained more feeling as days drag on. I am hopeful and terrified depending on the moment. I'm sleep deprived and living on stress and caffeine. I'm not even sure I'm writing in English at the moment. My fingers could be on all the wrong keyboard keys.
Keep a good thought.
I know I am not the only one struggling right now, so I am sending good thoughts to all of you. Or I will when I can have actual thoughts.
Here, in this thread, is where you can share and find comfort.
NO! Politics open thread
(the only good news is I have absolutely NO idea what is going on in the world outside my little corner right now)