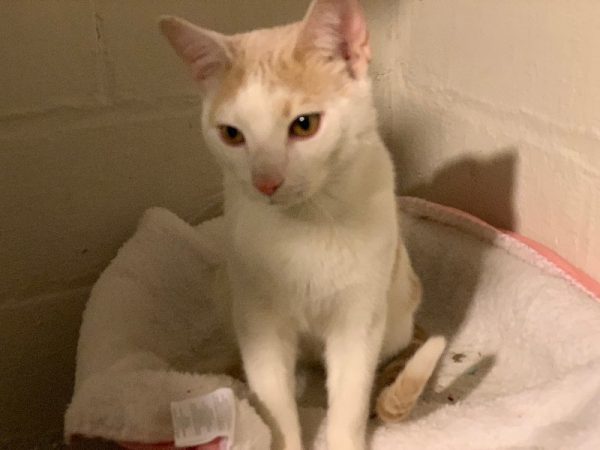 Pet rescue update, from commentor Aleta:
A very nice guy drove up to our door this afternoon with a wonderful cat from Minnesota. (It was like that sweepstakes prize that they promised would knock on the door. Except this happened.) It happened because of this blog and because debit is outright amazing.

We had thought he would arrive tomorrow, but Steve the driver had to get up here and then quick out of state before a snowstorm tomorrow.

Infinite Kitty has been his code name, so now we're calling him Finn and Finney. He spent 2 1/2 solid days in the crate. Steve's report to me was: "He HATES really HATES HATES HATES crates."

Finn's been bouncing around the room with me here for hours now. He's smart, social, polite, hungry, sweet, playful, determined, gorgeous.

It's good to see him relax more and more with every half hour. I'll send some pics to a FPer tomorrow and also put them at a link in case they are busy.
If I know from ginger boi-cats, she *will* be busy. Good luck to Finn and to his new Maine housemates!
More upbeat clips to start the week:
It's not every night you get visitors like this! ???? It was an honor having @HillaryClinton visit us last night. pic.twitter.com/92BTrk3rEt

— Ain't Too Proud (@AintTooProud) April 6, 2019
.@staceyabrams: There's a false memory of what happened in 2016. Democrats did not lose the election because #Trump was a better candidate or even that he turned out more people. We lost because of a strategic error… We can win with the best candidate. #AMJoy pic.twitter.com/9W8xTejQll

— AM Joy w/Joy Reid (@amjoyshow) April 7, 2019
.@staceyabrams: I ran a race where we tripled Latino, Asian-Pacific Islander turnout, increased youth participation by 139%, increased black turnout by 40%… the highest share of white voters in a generation… Winning… is about building the largest coalition possible. #AMJoy pic.twitter.com/yghanusziX

— AM Joy w/Joy Reid (@amjoyshow) April 7, 2019
(And I'm dedicating a post later this morning to Speaker Pelosi, who won this year's Profiles in Courage Award.)