The Israeli election returns are very, very, very, very, very close. Right now at 6:15 PM EDT Haaretz has the average of the exit polls as Gantz's Kahol Lavan (Blue and White) Party with 37 seats in Knesset, Netanyahu's Likud Party with 35 seats, Shas (technically the Sephardic extreme right religious party) with 7 votes, the United Torah Judaism (UTJ – a partnership between the two most powerful Ashkenazi extreme right religious parties of Degel HaTorah and Agudat Israel) with 7 votes, (what's left of) Labor with 7 points, the Hadash Ta'al Party (the non-Zionist Arab-Jewish communist party), the Rightist Union with 5, Meretz (the social democratic and green party) with 5, Yisrael Beiteinu (Avigdor Lieberman's extreme right party) with 5, and Kulanu (centrist party focusing on economic issues) with 5.
12:14 A.M. Gantz hails historic day for Israel

Kahol Lavan Chairman Benny Gantz told supporters Tuesday overnight he believes he should be the next prime minister, after exit polls suggest his party is either tied or leading over Prime Minister Benjamin Netanyahu's Likud. "This is a historic day," Gantz told party activists in Tel Aviv.

"We wish to thank Benjamin Netanyahu for his service for this country, and say that despite our many differences, we will rise above our past disagreements and grudges," Gantz said. "We will respect the voter's will — the biggest party is the one that should … form the government."
Gantz is giving an exhilarated victory speech at Blue & White headquarters. From the crowd, chants of "ooh, ah, mi zeh rosh hamemshalah ha-bah?" (hey ho, who's the next prime minister?") Gantz opens with a blessing from (ugh, apologies to the rabbis who taught me decades ago)

— Lisa Goldman (@lisang) April 9, 2019
Also noted that when Gantz doesn't code switch. He speaks proper Hebrew without idioms when he's giving a speech to his supporters. Netanyahu is always playing to class fissures by code switching in a way that no white pol could get away with in the States.

— Lisa Goldman (@lisang) April 9, 2019
And one of the new Kahol Lavan Members of Knesset (MK) Orit Farkash HaCohen has put out a call for Likud MKs opposed to Netanyahu to abandon him and join Gantz in forming a governing coalition. From The Times of Israel:
Likely Blue and White MK-elect Orit Farkash-Hacohen tells The Times of Israel that she believes Benny Gantz will be able to form a coalition regardless of the final results for the right or left-center blocs.

"We will form a responsible coalition because we can work with parties from across the political spectrum," she says.

Asked if that included the Likud, Farkash-Hacohen, number 15 on the Blue and White slate, repeats the party line that it would not sit with Netanyahu but that his party was an option.

Who will they speak to in Likud? "They will have to come to us first," she says of potential Likud rebels. "And they are welcome to."
The Labor Party's chairman (for now…) has indicated that Labor will support Gantz and Kahol Lavan:
12:09 A.M. Labor chairman says disappointed with exit polls, Netanyahu must go

Labor Party Chairman Avi Gabbay told supporters he was disappointed with the exit poll results, which predicted his party receiving anywhere between six and eight Knesset seats, adding Prime Minister Benjamin Netanyahu "must go." Gabbay vowed to "spearhead the political and social struggle" against Netanyahu, facing potential charges in several corruption cases.

Gabbay also said he spoke with Kahol Lavan leader Benny Gantz. "I told him we will do everything" necessary to help Gantz form a government, he said.

He also pushed back at criticism from his own party over his leadership, including some calls to resign, saying he will go on leading the Labor Party.
The Times of Israel's most recent live update indicates that Labor has pulled ahead in the actual tallying of votes and that the Kulanu Party leader will recommend Netanyahu for Prime Minister.
228,367 votes have now been counted.

Likud is ahead, with 29%, compared to Blue and White's 24%.

The front-runners are followed, in descending order, by Shas (6.3%), Yisrael Beytenu (5.5%), Labor (4.9%), United Torah Judaism (4.7%), Union of Right Wing Parties (3.8%), Kulanu (3.6%), Meretz (3.2%), the New Right (3.1%), Zehut (2.8%), Ra'am-Balad (2.6%), Hadash-Ta'al (2.2%) and Gesher (1.8%).

Kulanu leader Moshe Kahlon says he'll recommend Netanyahu as prime minister.

Reports earlier in the evening suggested Kahlon was waiting for the final results before making a decision.
Likud spokesman @YonatanU: "Prime Minister Netanyahu is in very advanced stages of forming a coalition." Which is why, apparently, the PM has yet to show up at the Likud victory rally in Tel Aviv."

— Noga Tarnopolsky (@NTarnopolsky) April 9, 2019
I expect that if Likud does not win a larger plurality than Gantz's Kahol Lavan Party, then Bibi will do what he did when he lost to Tzipi Livni in 2009, which is simply form a majority coalition as quickly as possible and dare anyone to do something about it. I would expect that Benni Gantz, a retired 4 star general and former Chief of Staff of the Israeli Defense Forces to put up more of a fight than Livni did in 2009, but Netanyahu has demonstrated time and time again that he really does not care about what the law requires and will do what he wants, when he wants to attain, maintain, and/or consolidate power. Which is why he sent Likudniks to polling places in Arab neighborhoods and had them plant over 1,200 cameras to surveil Israeli Arabs voting just to make sure that nothing untoward was being done by Israeli citizens exercising their right to vote. This led to police intervention, calls for an investigation, but also what Netanyahu wanted most: a large drop in Israeli Arab turnout in today's elections.
The final results are likely to be very close and I fully expect plenty of Bibi's usual shenanigans. I also expect Gantz to fight to deny Bibi another term as Prime Minister and his execrable, racist, theocratic, xenophobic, and neo-fascist coalition another term as Israel's governing coalition. If Bibi brazens this out once again, then I expect that Zone C of the West Bank, which includes the legal and illegal settlements, will be annexed in short order, the President will announce that the US recognizes this annexation as legal, legislation will be pushed through Knesset that makes it illegal to prosecute a serving prime minister, and Bibi will, effectively, have pushed Israel into full on authoritarianism using democratic systems and processes to achieve illiberal and undemocratic outcomes.
Updated at 6:35 PM EDT
Nearly 20 percent of the vote counted. Likud leading but from the higher proportion of Haredi votes, it looks like most of the ballots counted so far are from more religious and right-wing areas. Much too early to say whether this changes the exit-poll picture (murky as it is) pic.twitter.com/fuBbQXKueE

— Anshel Pfeffer (@AnshelPfeffer) April 9, 2019
Here's the chart from Pfeffer's twitter feed: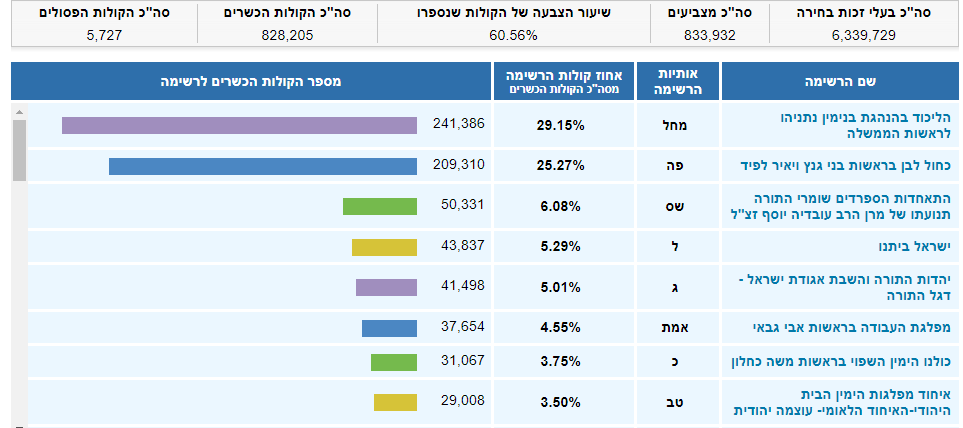 Channel 13 updates exit polls: Gives Netanyahu 35-34 lead, puts Arab Balad party in and Naftali Bennett out. Overall 65-55 for right wing. These results bring Netanyahu closer to victory

— Chemi Shalev (@ChemiShalev) April 9, 2019
Here's a bit of positive news and progress:
And it's official Gadeer Mreeh becomes Israel's first female Druze MP.❤️ congratulations!! pic.twitter.com/402eKRlTwF

— ? ☆ أماني ☆ (@Amani90__) April 9, 2019
Oy vey…
@realDonaldTrump banner spotted @Likud_Party victory party #IsraelElections2019 pic.twitter.com/yhvXoabT1z

— Ruth Marks Eglash (@reglash) April 9, 2019
Updated at 6:45 PM EDT
From The Times of Israel:
The pro-Netanyahu Israel Hayom newspaper reports that Prime Minister Benjamin Netanyahu may ask Kulanu leader Moshe Kahlon to merge his center-right party with the Likud, making it the largest party and the best-poised to form a government.

Kahlon is a former Likud lawmaker. The report comes as exit polls are split on which party is the biggest, with Channel 12 and Kan handing the title to Blue and White, and Channel 13 giving Likud a one-seat edge. The official results are being counted.
And:
Channel 13 has adjusted its exit poll as real-time official results emerge. The amended poll gives Netanyahu's Likud a one-seat edge over Gantz's Blue and White at 35-34.

The network had previously predicted that the two front-running parties would be tied at 36. Both Netanyahu and Gantz have crowned themselves the winners of the election.
Updated at 6:50 PM EDT
From Netanyahu biographer (it just came out, I just bought it, it's in the queue, haven't read it yet):
Still only about 20 percent of the actual vote counted and 2 of the television channels have changed their projections, putting Likud in the lead (by 1 seat) over B&W. Still much too close to call but this will at least allow Netanyahu to come, say "we won" and send everyone home

— Anshel Pfeffer (@AnshelPfeffer) April 9, 2019
Updated at 7:00 PM EDT
Final voter turnout: 67.9% of eligible voters voted. 4% less than in 2015. https://t.co/3tFZNziZI5

— Noga Tarnopolsky (@NTarnopolsky) April 9, 2019
Updated at 7:05 PM EDT
The Times of Israel, based on Israel Channels 11's and 13's exit polling, has this projection:
Channel 12 and Channel 13 update their exit polls as the official ballots are counted.

Both networks' revised samples indicate Netanyahu's Likud will win 35 seats, compared to Blue and White's 34.

The Channel 12 survey previously predicted 37 seats for Blue and White and 33 for Likud; Channel 13 had the two parties tied at 36.

Both exit polls now indicate that Shas would be the third-largest party with eight seats, followed by United Torah Judaism with 7. According to the TV stations, the New Right, Zehut and Gesher will fall under the electoral threshold.

In its breakdown of the political blocs, Channel 12 gives 63 of the 120 Knesset seats to the right, compared to 57 for the center-left, giving Netanyahu a clear path to forming a government. According to Channel 13, the right-wing bloc would receive 65 seats, compared to 55 for the center-left.
Haaretz is also reporting this:
01:55 A.M. Updated exit polls show Likud overtaking Kahol Lavan by one seat  

The most recent exit polls still gave advantage to the right-wing bloc, showing that it is likely to garner 63-65 Knesset seats, while the center-left bloc has 55-57 seats, with the Likud overtaking Kahol Lavan by just one seat.

According to both exit polls by Channel 13 News and Channel 12 News, the Likud will snag 35 Knesset seats.

Both exit polls also showed that Naftali Bennett and Ayelet Shaked's Hayamin Hehadash party did not pass the electoral threshold of 3.25 percent. Finance Minister Moshe Kahlon's Kulanu party is going to receive four Knesset seats, the exit polls indicated, while the United Arab List-Balad, which was at risk of not making it into the Knesset, will get four to six seats as well.

The exit polls also predicted that Orly Levi-Abekasis' Gesher party as well as Moshe Feiglin's Zehut party will fail to enter the Knesset.
Gantz's path to victory is quickly being closed off.
After Channel 12 updates exit poll from 37-33 Gantz to 35-34 Netanyahu, the left is left with hardly a prayer. It is an extraordinary triumph for Bibi and a crushing, deflating moment for his critics and opponents.

— Chemi Shalev (@ChemiShalev) April 9, 2019
Updated at 7:30 PM EDT
From Haaretz:
02:11 Netanyahu in celebratory speech: 'This is a night of great victory'

"We love you," Netanyahu told Likud supporters in a victory speech he held after exit polls showed his party has likely won the election. "23 years ago it was the first time Sara [his wife] and myself stood here, and here we return because of you and for you."

"This is a night of great victory," Netanyahu said to a standing ovation.

"I operate day and night for you, for the country, for our land," he added. "You earned an almost unfathomable feat in the face of biased media and under impossible conditions," he extolled Israelis who voted for his Likud party.

"The right-wing bloc will continue to lead Israel for the next four years," he added.
Netanyahu says Israel, under his leadership, is strong, prosperous and "a good place to live."

Even as he declares his win, Netanyahu also counsels patience until all the ballots are counted.

"A long night, maybe a long day, is still ahead of us and we will wait for the final results," says Netanyahu.

Netanyahu says he is contact with right-wing parties, "our natural partners."

"Nearly all of them have publicly declared that they will recommend that I form the next government," he says.

"It will be a right-wing government. But I intend to be the prime minister of all of Israel, right and left, Jews and non-Jews alike."
I am so happy for relatives and friends who had the good sense to go to sleep. They spared themselves the pain of watching the live broadcast of Netanyahu's triumphant gloating, as well as the ensuing dread of days to come.

— Chemi Shalev (@ChemiShalev) April 9, 2019
So to paraphrase Samuel L. Jackson: grab on to your tuchases because things are going to get meshugenah!
Open thread!