Glad they got him, but the description of the suspect in custody does not surprise me in the least.
A 21-year-old named Holden Matthews has reportedly been arrested in connection with fires that destroyed 3 predominantly black churches in Louisiana. On social media, he was active on black metal and pagan pages, scenes with large neo-Nazi fanbases https://t.co/3XAPXnh569

— The Daily Beast (@thedailybeast) April 11, 2019
From The Daily Beast (emphasis mine):
A 21-year-old named Holden Matthews has been arrested in connection with fires that destroyed three Louisiana churches in the span of two weeks, local news outlet KATC reports.

Throughout the end of March and in early April, three churches in rural St. Landry Parish were burned down. Matthews is reportedly the son of a St. Landry Parish Deputy, and he was booked into St. Landry Parish jail at about 5:30 this evening. Holden's family declined to comment to The Daily Beast.

On a Facebook page that appears to belong to Matthews, he was active in black metal and pagan pages. Although both scenes are predominately apolitical, both have large neo-Nazi fanbases. Matthews commented on two memes about Varg Vikernes, a far-right (and self-described former neo-Nazi) metal musician who served 15 years in prison for burning churches in Norway and killing a fellow metal musician.

Matthews commented on two memes about Vikernes. Neither comment was particularly revealing, but they indicated his familiarity with the fringe figure. The pagan circles Matthews and Vikernes frequented can be popular with neo-Nazis. Matthews frequently posted about pagan beliefs, and recently uploaded a picture of a gun and a knife with the caption "I carry this…..maybe not legally but I only truly follow the law of Odin….. which says as you said,arm yourself…… Odins advice> modern law." Odin is a pagan Norse god.

One of the pagan pages Matthews was active on specifically forbade racism and "nazi stuff." Matthews also appeared aware of the religion's white supremacist associations. In one post, a group member noted that a drawing of a pagan figure had a swastika-like design on his belt. "well yea the belt gives him extra strength and power…..white power lmao jk jk I had to," Matthews wrote."
From KATC Channel 3 (video and picture of Matthews at the link):
The Louisiana State Fire Marshal's Office, in collaboration with the ATF, FBI, Louisiana State Police, Louisiana Attorney General's Office, St. Landry Parish Sheriff's Office and several other local agencies have been investigating suspicious fires at three churches in St. Landry Parish.

US Attorney David Joseph released the following statement on the burnings.

"A suspect has been identified in connection with the three church burnings in Opelousas, Louisiana, and is in state custody.  The U.S. Attorney's Office, ATF, and FBI are working with state and local law enforcement and stand shoulder-to-shoulder with the victims and those St. Landry Parish residents affected by these despicable acts.  A special thanks to St. Landry Parish Sheriff Bobby Guidroz, Louisiana State Fire Marshal, H. "Butch" Browning Jr., Louisiana Attorney General Jeff Landry's Cybercrime Unit, the Louisiana State Police, and the Florida State Fire Marshal for working seamlessly with federal law enforcement agents in this investigation."

The first fire occurred on March 26 at St. Mary Baptist Church in Port Barre. The second occurred at Greater Union Baptist Church in Opelousas on April 2. The third occurred on April 4 at Mount Pleasant Baptist Church in Opelousas.
I'm sure Candace Owens will be along any time now to explain that these African American churches didn't burn down and this isn't domestic terrorism and/or a hate crime and/or the result of white supremacy, because white supremacy is a hoax. She wouldn't lie to us, would she?
Also, obligatory: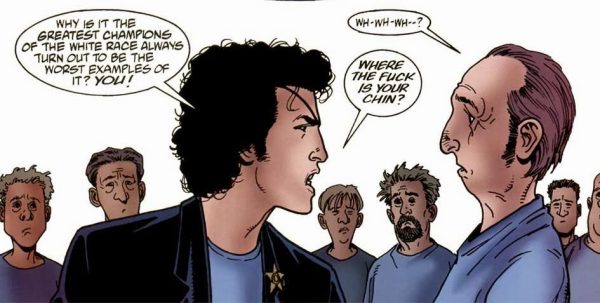 Open thread!