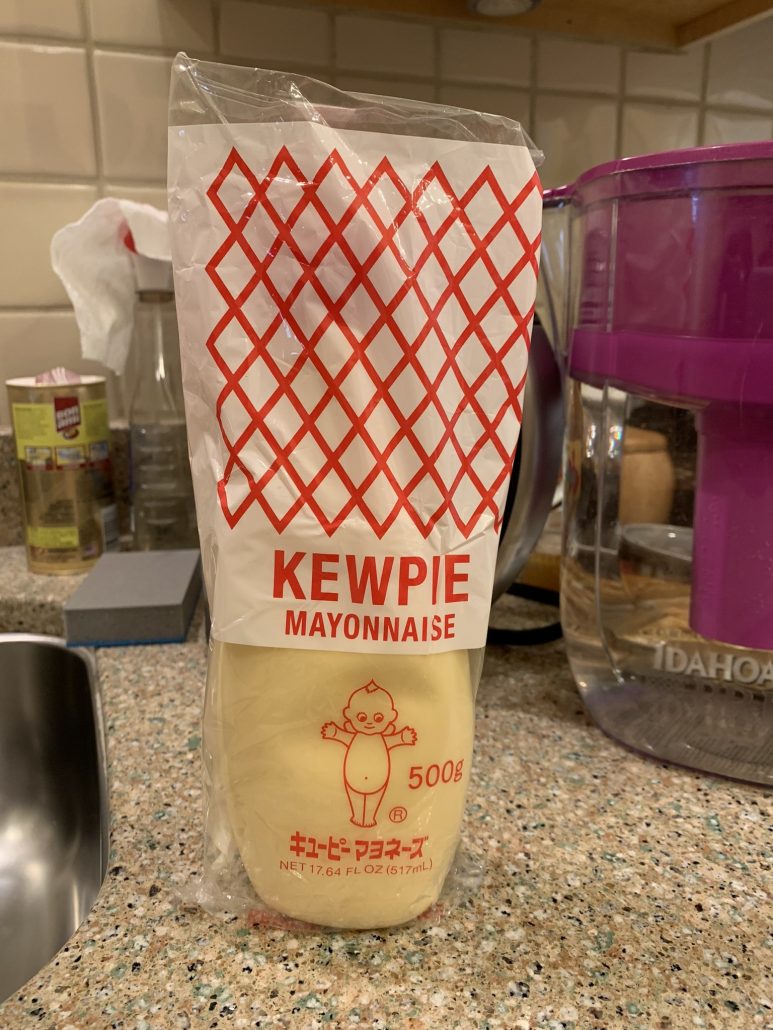 Folks,
Sorry I've not been around a lot recently. I've been sucked into some other things and that's not changed much, but I did want to post and say hi and share something other than politics to think about. I hope to post more often, on a variety of non-political topics.
So, like a good son of a Swiss father with many Swiss and Belgian cousins, I love me some mayonnaise. I mean, I love love love it – I was that college sophomore who lived off campus and occasionally made my own in my blender because the store shelves back then disappointed. I eat it on fries, burger buns, sandwiches, fried fish, subs, and many, many things. Not a fan of mayo-based "salads", to be honest, but besides that, mayonnaise is regal. Well, except tuna salad. Truly a wonder food.
In all my years of cooking with Asian ingredients, and having first been to Japan 21 years ago, I've often seen and encountered Japanese mayonnaise, often the Kewpie brand. I've had Japanese mayonnaise in Japan and the US and liked it, but once I found it was the magic ingredient in some yummy noodles I love, I knew I had to try it at home.
That was a couple of years ago – until then I'd never bought it. OMG what a mistake! I cannot believe I've missed this divine stuff for so long, wasted years not enjoying it often. If you like mayo, try it. It is, of course, a great mayo for most mayo uses, but I prefer it as a sauce for any number of things. It's so, so good. It's a yolkier, creamier, and sweeter mayonnaise than what we're used to, plus it has a tiny bit of MSG/seaweed extract in it to pump up the umami.
So it's like a better mayo plus a bit of extra umami kick. I've eaten it, plain, as a dipping sauce for often-cold leftovers of many forms of beef, pork, chicken, shrimp, and veggies. It's also great to make any of your favorite dipping sauces beyond the basic, so adding horseradish, garlic, capers, shallot, onion, any type of hot sauce, vinegar, herbs, spices, mustard, ketchup, bbq sauce, maple syrup (try, don't judge), lemon or lime juice; I've made quite an assortment of dipping sauces for all kinds of meals. I've not yet tried this, but allegedly, some chefs use it instead of butter for pan frying some dishes.
Give it a try – it doesn't have to be Kewpie, but that's a great brand. It's shelf-stable until opened. I expect you can buy it at some better "normal" markets, but I'd recommend finding a good Asian market so you can have a little adventure as well. There are so many treasures you can find there, so even if you're not a mayonnaise fan, go shop there and buy interesting things.  You can ask questions, or pull out the phone and research. It's amazing what you can discover and experiment with, cheaply.
I've often found an enjoyable hour or two wandering around the produce aisle, looking up descriptions, translations, and recipes for what I find. Even if I don't buy something on that trip, some of those new things percolate in the back of my brain and two months later, "out of the blue", I'll be inspired to look up a recipe or two and try them out.
Consider this an open thread for non-political stuff, ideally cooking- or food-related.