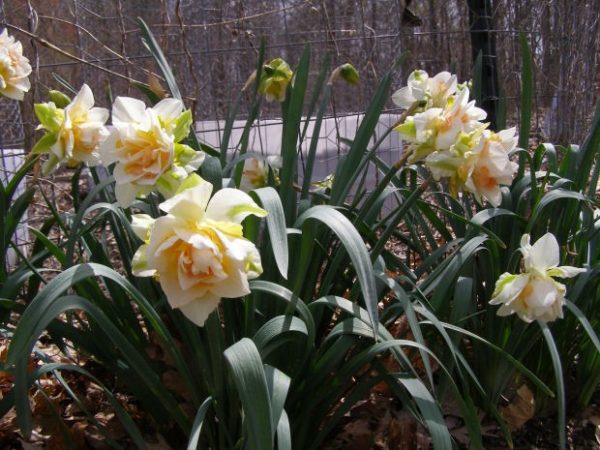 Blessings to you, Ozark Hillbilly!
If nobody else will… I guess I'll send you some more garden pics.


You can see magnolia blossoms beyond the extravagant forsythia and I'm damn lucky to have a few of their blossoms to enjoy this year. Last Sunday night the lows hit 27. That was OK but Monday night it hit 25. I thought I'd lost them all, again, but as it turned out about 1/3 survived.

The daffodils didn't care, and the frost did not stop the hydrangea from budding or keep the purple coneflowers from sending up their first tender shoots.

This weekend's expected mid 30's lows has convinced me to wait till after the weekend to plant my tomatoes tho.


Bonus pic: The Woofmeister and Percy. "drinkin' wine, eatin' cheese, and catchin' some rays, you know."
***********
We've got daffodils like that, now starting to bloom along the south-facing front yard. There's a rotation every year — first the old-school yellow daffs that were here when we bought the place, next to the heat-leaking basement window; then the specialty multi-colored daffs along the same axis; next the ones along the north-side chainlink (which are coming up nicely but not yet flowering); and finally the ones in the shaded side yard.
The Spousal Unit is taking an interest in the garden, this year. Which is good, because I can use all the help I can get hauling bags of compost and mulch. But it's also slightly scary, because his ideas of what makes a good garden are… not always in harmony with mine. He has, for instance, an inordinate fondness for groundcover, and anything with blue flowers; given a free hand, our yard would consist of an expanse of vinca with some species iris and a few lilacs fighting for their lives above the wave — six weeks of early-spring color followed by six months of 'why does everything look so drab out there?'
What's going on in your garden (plans), this week?