I subscribe to Paul Goble's blog, "Window on Eurasia – New Series." Goble worked in the United States State Department while the Soviet Union was breaking up. He worked particularly with Estonia and the other Baltic States, which had been made Republics of the Soviet Union after World War II, although that status had never been recognized by the United States and most other countries.
After he retired from the State Department, he taught in Estonian universities and wrote a summary of media, translated from Russian and Estonian, for a mailing list. That summary became the blog. He watches a variety of publications for separatist leanings, of which there are many in Russia. Russia contains many nationalities and many languages, peoples not always happy to be part of that larger state, but not able to break away.
It's a different view of Russia than we get from Big Media, which focuses mainly on Vladimir Putin, not even on the politics among his government and the oligarchs. The focus on Putin tends to make him look all-powerful, but he is subject to a great many political currents and challenges from rivals. For now, he is in a relatively stable position. Here are a couple of stories that Goble has been following.
Continuing Anonymous Bomb Threats
For the past couple of years, anonymous bomb threats have been made by phone, letter, or email to many cities in Russia. The Russians have not been able to find the source of the bomb threats, which disrupt civil and governmental functions.
On a single day [in March] the Regnum news agency reports, anonymous and unconfirmed bomb threats were made against 661 facilities, forcing the evacuation of "almost 24,000 people,"  one of the largest one day totals ever there or in any other Russian city over the last three years (regnum.ru/news/polit/2597506.html).
"Among them," the Russian news agency says, "were not only the customary trade centers or universities but also schools and hospitals and also administrative centers of districts, payment offices and business centers." A day after these calls, an addition 17,000 people were evacuated. And this weekend, "this 'process' continued," Regnum reports.
Targets included the Hermitage and St. Isaac's Cathedral. Threats have also been received in the Belarusian capital of Minsk.
Conflict Between Chechnya and Ingushetia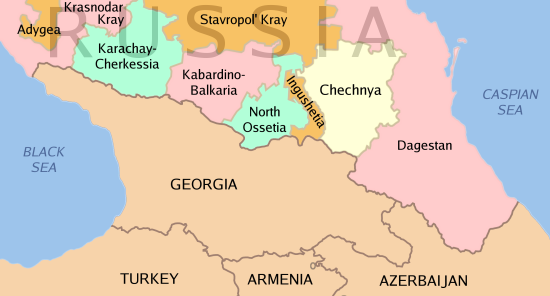 These two republics in the Caucasus have been in conflict for a decade or more. Ramzan Kadyrov, the head of the Chechen Republic, has offered a number of challenges to Vladimir Putin. Chechen separatists fought Russian troops twice since the breakup of the Soviet Union. Putin supports Kadyrov, who negotiated a peace with Russia and has granted him a fair bit of independent action.
Recently, Yunus-Bek Yevkurov, the head of Ingushetia, negotiated land swaps with Kadyrov. The deal strongly favored Chechnya, and there have been Ingush protests about the swaps. Moscow has sent FSB and other police support to control the Ingush protests. They have arrested opposition leaders. However, the Ingush opposition seems to be solidifying and spreading. Ingushetia's interior ministry is confiscating guns from the population.
Kadyrov is now unilaterally marking the Chechen border with Dagestan, causing concern there.
It's not clear what will happen. Speculation is that Moscow will replace Yevkurov. Some Ingush have picketed in Red Square in Moscow, and the issue has been brought up in the Duma. Moscow has ordered an end to border talks between Chechnya and Dagestan to prevent protests like those in Ingushetia.
Other Bits
Russia has a single aircraft carrier, and it's not in good condition. It may never return to sea.
Over the last 25 years, "no language in the world has disappeared as quickly as Russian." Eighty million fewer people speak Russian now than did in 1991.
Cross-posted to Nuclear Diner.