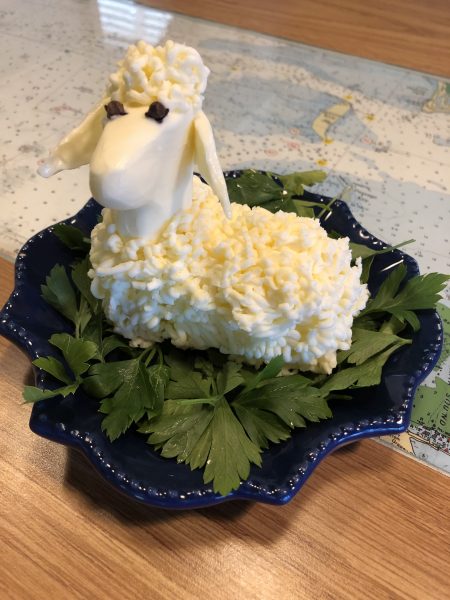 What in the hell is a butter lamb? That's what I asked the first time I heard of it. See this article for details — tl;dr version: it's a lamb carved out of butter that is an Easter dinner tradition among Polish-American Catholics in Buffalo, New York.
I am neither Polish-American, nor Catholic nor an Empire Stater, but I married into that sort of family. In Buffalo, you can buy butter lambs in stores at Easter time.
My snowbird in-laws used to get family members to bring a butter lamb to Florida in a cooler for the Easter table each year. But one Easter about 10 years ago, there were no Florida-bound Buffalonians to bring a butter lamb, and everyone was sad about confronting a feast table bereft of butter lambs. So, I found a YouTube of a lady making one, and I carved a butter lamb for the family so everyone would be happy again.
Ever since, it has been my yearly job — store bought butter lambs aren't good enough anymore! Below the fold is an illustrated 12-step process that explains how I make them, though honestly, the ladies in the linked YouTube video are more entertaining, but people have asked, so…
1. Make an L with very cold half sticks of butter. I usually start with three sticks that have been in the freezer for a while but are not totally frozen. I cut off a little more than half from two sticks to form the L, then I scrape some butter off the spare sticks as "mortar" to join the two halves together.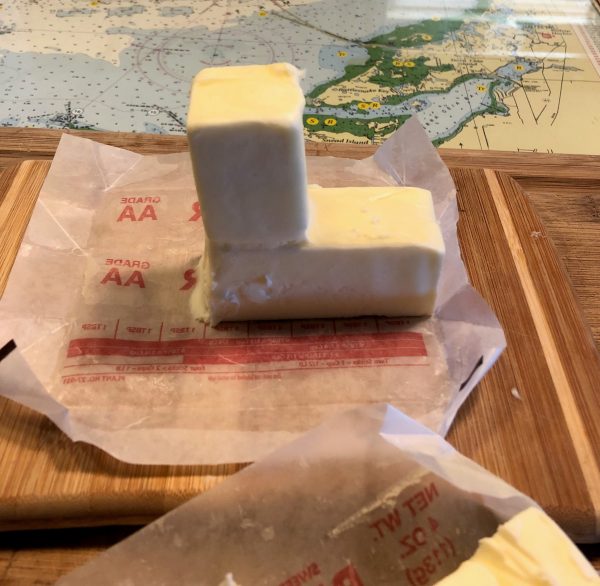 2. Bevel the edges with a paring knife (except the bottom — you want that flat so it won't tip), and scrape the scraps into a bowl or plate — you will need them later.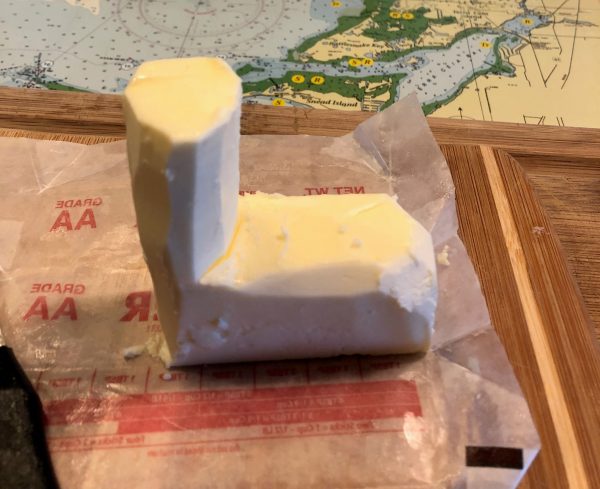 3. Grab about half a teaspoon or so of the aforementioned butter scraps, mold a nose, and attach it to the lamb, smoothing it onto the head with your fingers: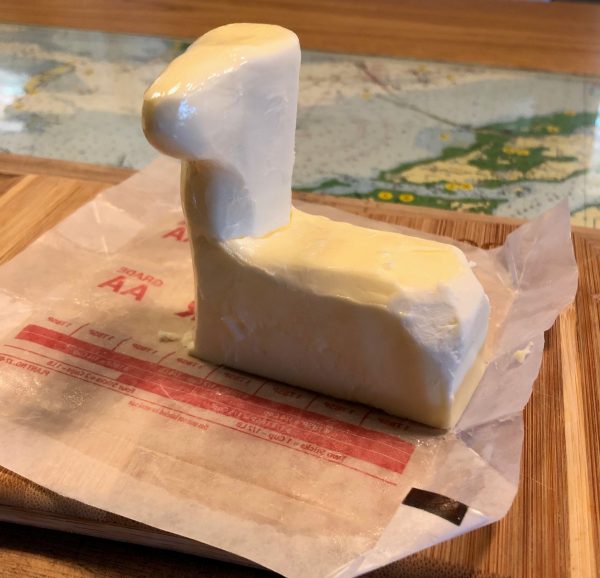 4. Now, take some of the scrap butter (or scrape some off a spare stick if you're running low) and mold it onto the paring knife blade to make an ear: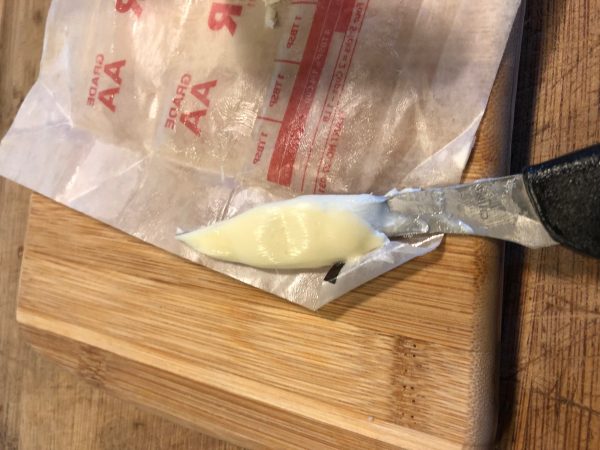 5: Carefully remove the ear from the knife and attach it to the head. Repeat process for the other ear: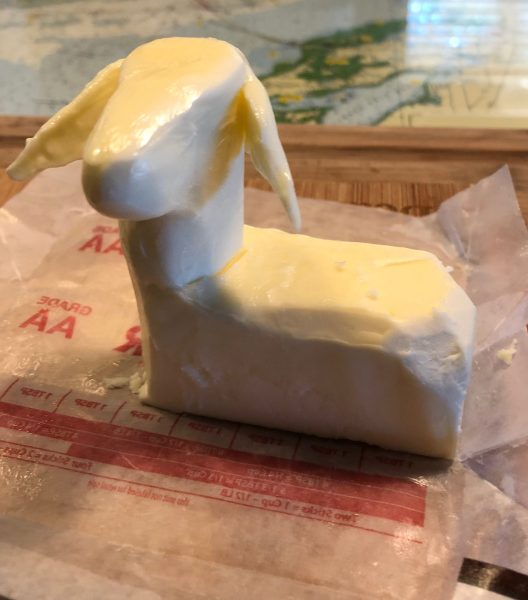 6. At this point, I usually put the butter lamb in the fridge to cool down because it's getting melty, and I take a break. You may not have that problem if you're in a colder climate. However, I keep the spare stick and butter scraps out of the fridge because those are the materials used to make the curly pelt, and I find that warmer butter sticks better.
When you're ready to resume, take the butter lamb out of the fridge and load a garlic press with a chunk of scrap butter and press lightly: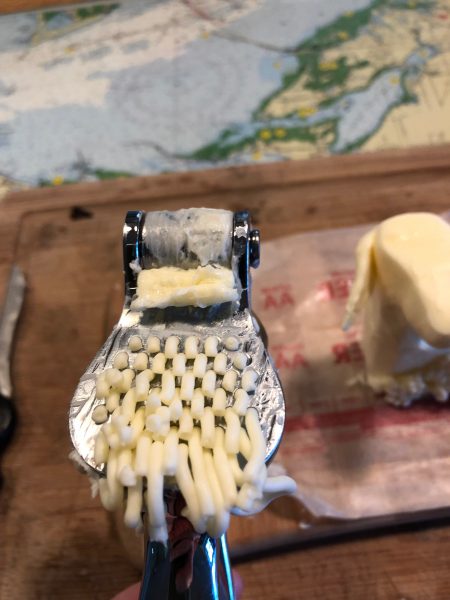 7. Use a clean skewer or straightened paper clip to scrape the butter strands off the garlic press and apply them to the lamb, starting from the bottom: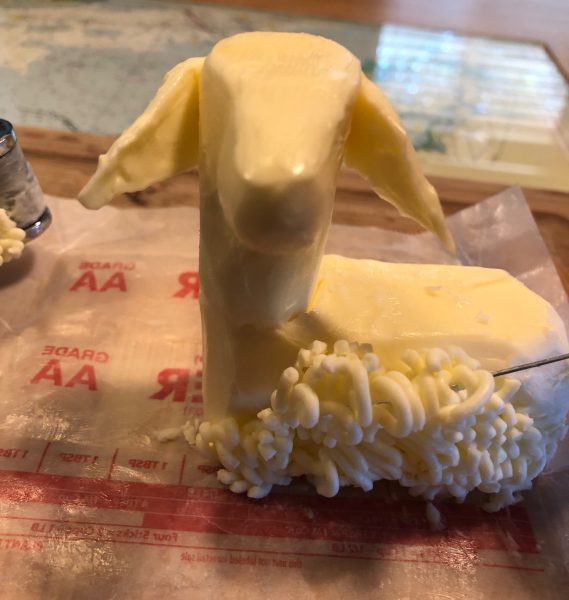 8. Keep going! You can do this!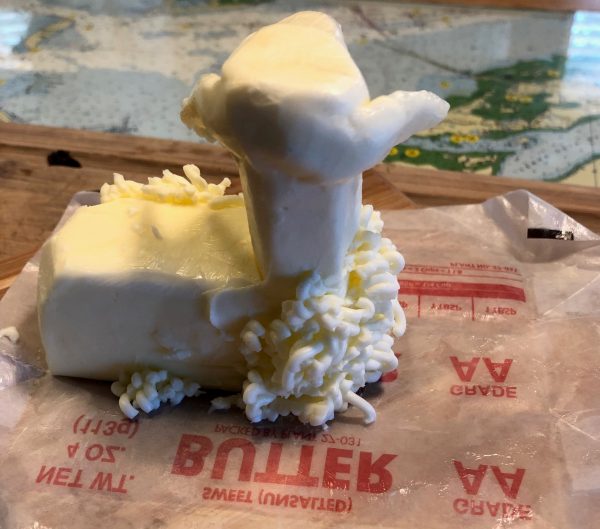 9. Eventually, you'll end up with something like this: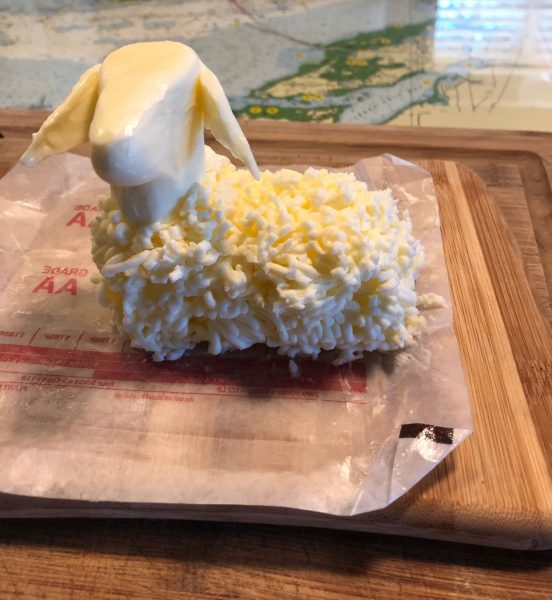 10. Now, add some curly-cues to the top of the head: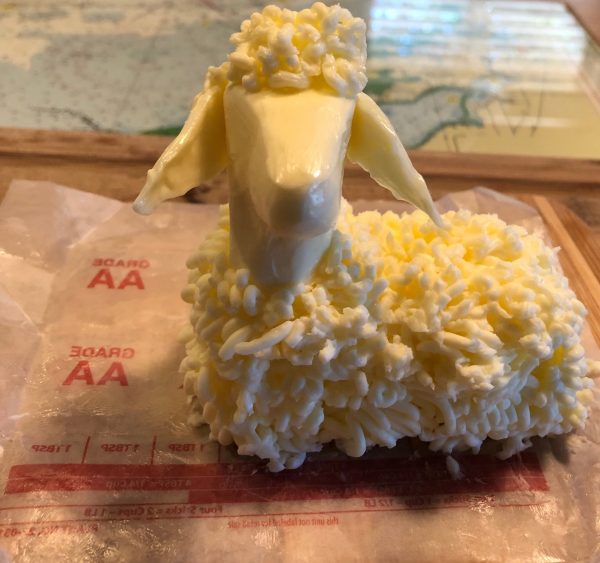 11. Okay, almost done! Now hunt through a jar of cloves or pepper corns and find a matching pair. Make sure the color and size are very similar, or your lamb will look goofy. (Okay, goofiER.) And, voila!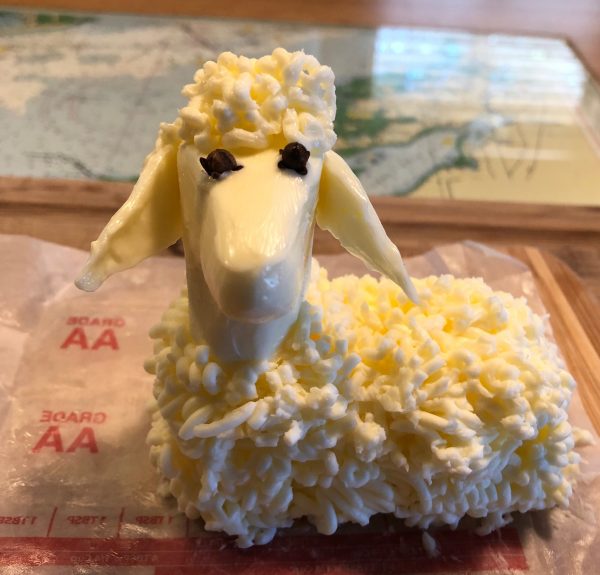 12. I make my lambs on the butter wrapper, then refrigerate them for a while so they're solid. Then I move them to a fancy plate and garnish them with parsley or something, as pictured at the top of the post.
Happy Easter, y'all!