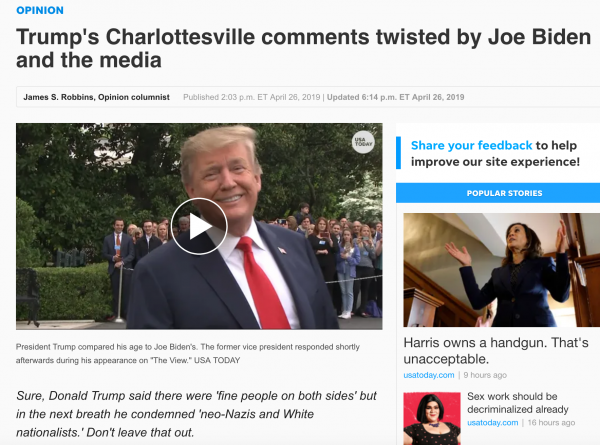 Trump's comments weren't taken out of context and they were so in context that they stumbled all over themselves rewording it and respinning it for the following week after it happened, Mr. Robbins. Not to mention, right after a woman is murdered by a white supremacist the day after a bunch of nazis stormed Charlottesville goosestepping to "Jews Will Not Replace US" and immediately following a "Unite the Right" rally of nazis, klansmen, white nationalists, and neo-confederates organized by an open white supremacist IS NOT THE FUCKING TIME TO BE BOTH SIDESING shit. The only appropriate response is FUCK NAZIS WE WILL DESTROY THEM.
So fuck right off to whatever hole you crawled out from under.
Not to mention, let's not forget the source. Donald's Trump dad was a klansman, Donald Trump is a racist and a white supremacist who was sued for housing… oh fuck it I'm not going through all this shit again. You fucking know and don't care you lying piece of shit. Fuck you Mr. Robbins.