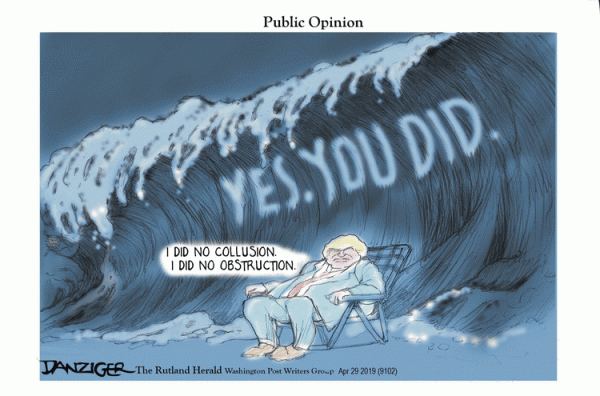 Seems like Madame Pelosi has a good sense of what voters are ready for, right now — they think Trump's a criminal, but there's not *yet* a consensus on impeachment:
New Q-poll:

Trump obstructed investigation 54-42

Muller *didn't* clear Trump of wrongdoing 51-38

Trump committed crimes before presidency 57-28

Committed crimes while president 46-46

Trump thinks he's above law 56-41

But: Don't impeach 66-29https://t.co/USaxPnT9R0

— Greg Sargent (@ThePlumLineGS) May 2, 2019
Of course, those numbers include the predictable 'If the president did it, it is not illegal' authority-worshippers, not to mention the Repub diehards who actually admire a guy who'll get out there and commit the crimes they only dream of getting away with. But as the Misadministration's cack-handed inability to crime with competence gets more attention, the numbers shift…
Attorney General Barr's decision to mislead the public in his testimony to Congress was not a technicality — it was a crime.

— Nancy Pelosi (@SpeakerPelosi) May 2, 2019
As Dana Houle (among others) pointed out, Nancy Pelosi is the person who gets to be President once Trump & Pence are removed (please Murphy the Trickster God) — it's not good 'optics' for her to get too far ahead of public sentiment.
And it's not as though — for all their loud talk — the Squatter-in-Chief's familia was acting as though they intended to be around for the long term…
It has been 2 years and the Trump administration still isn't vetting candidates for posts that require Senate confirmation.

— Abby D. Phillip (@abbydphillip) May 2, 2019