Screw bad news today. Our home has been turned upside down by this noisy thing: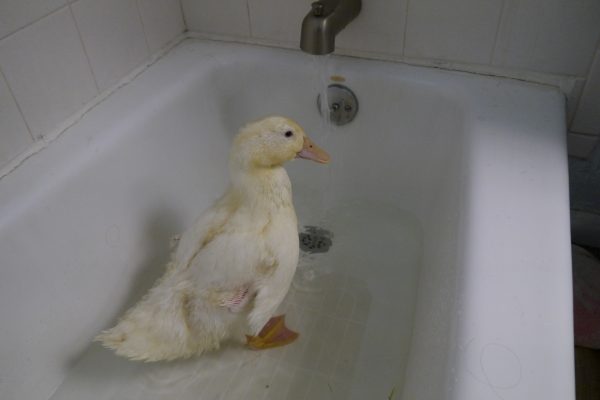 I've named it Pearl/Earl.  We won't know if its a boy or girl until it has its full feathers. It's a Pekin duck, about 7 weeks old. I am leaning toward female because of the quack, but that's not as reliable as the tail feather.
It followed a very sweet woman to her car from a local park where it was clearly abandoned (let me add testily here: don't get ducks, chicks or bunnies for Easter, people, if you aren't going to keep them for life!!)
She really has fallen in love and wanted to keep it, but just isn't a place to do so. We are equipped here and I told her she could visit anytime she wanted. If it turns out she can't live without, I'll help her get set up for life with ducks.
We are settling in – but difficult since this handraised duckling wants nothing more than to sit in my lap and heaven-forbid I leave the room!
I have yet to get pup and duck photos, but they are doing okay together.
And then there was this last night: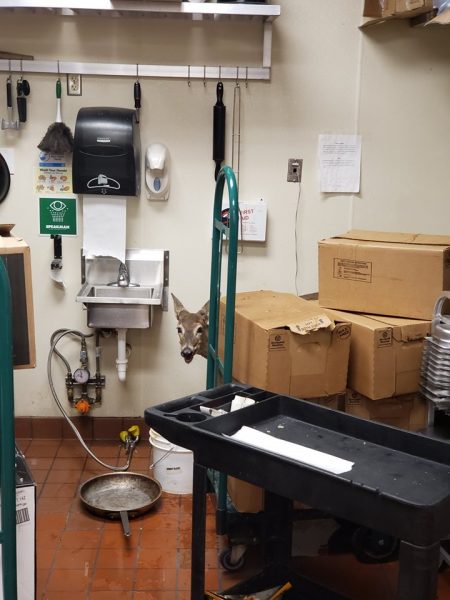 According to our local police, this little one decided to visit a very busy market:
…last night (Monday, 5/6/19) Longmont had a deer make her way inside the King Soopers on South Hover Street and take a stroll through the produce section and deli. Some shelves were knocked over and the deer incurred some minor injuries. Longmont officers responded and the deer remained in a section of King Soopers until Colorado Parks and Wildlife arrived. Eventually, the deer was removed and released back into the wild.

Wondering if the deer should have considered ClickList for an outside pick up?
Just another day around here…
Non-politics open thread.