Living her best life.
Buffy is 3 and was adopted from a poultry auction. She loves the wind in her feathers. And that's a Barbie helmet – Denmark, Australia – Maria Arima
I don't know why, but this photo of Pearl just quacks me up: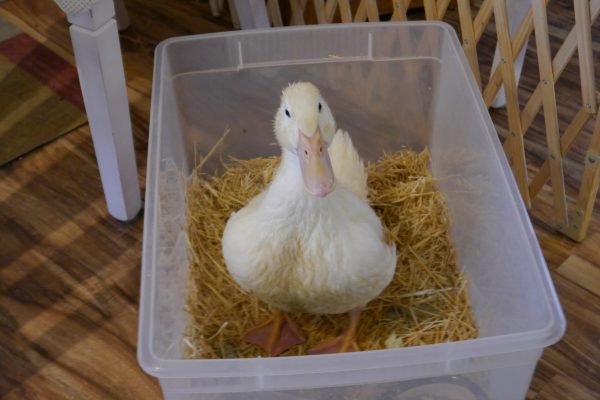 Like, "why am I in a box?" She is in a much bigger box now, so I get fewer of those looks.
She's doing well. Losing her down (my poor house, it's like someone ripped open a pillow and spread it everywhere) and getting more feathers. Still doesn't have her wing feathers yet. We are spending time outside with the other ducks…which is going okay. Pool time seems to be where they are most comfortable. Friends are bringing me a puppy yard to give her a space to safely hang out while Maddie and Mabel check her out. More photos/update here.
I had to run errands this afternoon and about 10 minutes from the house, I realized I secured the cats and the dogs, but forgot to secure the duck. She doesn't really jump out of her little nest box, but I usually secure her in the kitchen. I wasn't too worried, but when I got home, I came in through the garage – no duck in the kitchen. I go looking for her (not hard, she NEVER shuts up). She was hanging with the dogs. Bixby looked exasperated. Scout, amused. There was a minimal mess and no one was bleeding. I'll call it a win.
And representing mammals today, eclare sent this to me a while back and it made me laugh.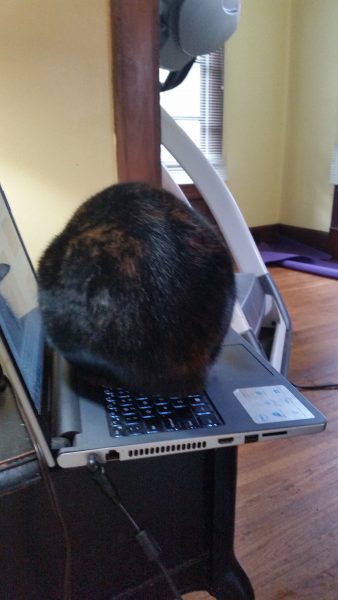 So Mary G submits a sweet story about a kitty who rides on the shoulder of her new bestie, and this is the catitude I get from mine. That used to be my laptop, now it is Jacy's
Those of us with cats totally get this.
No-politics open thread