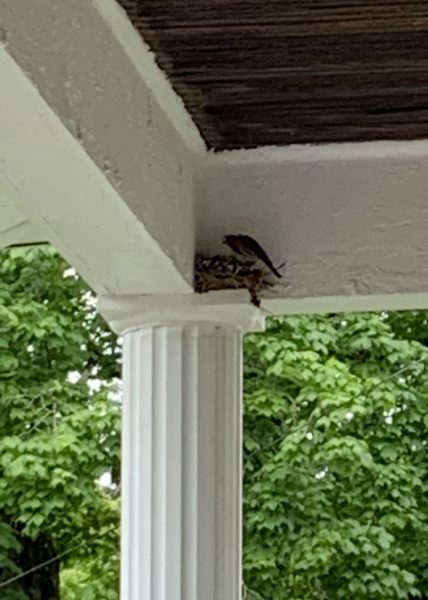 We've settled in a new ritual, at least when we are on the front porch. Mama Bird comes over and hops on the hanging geranium and chirps, and we assure her we are not going to bother her and her bebbies, and then she flies up and feeds them. You can't really make it out in the picture, but when she goes up there you can see a bunch of gaping maws aimed skyward awaiting food. Won't be long before they fly on out of here.
***
Read a bunch of the comments in Watergirl's site preview, and I am so glad many of you seem pleased with what you see. I was super excited when I saw it. I do want you all to take some time and thank BellaQ (or whatever the hell her nym is now she goes through them like crazy), Steeplejack, and Watergirl for all their hard work choosing the developer. What I thought would be a two week process turned into a several month project, and I really appreciate all their time and effort.
We ended up going with the pricier of the options, and the hosting will be multiple times more than it is now, but in the end it will be worth it. I'm so excited for it to go live (which won't be for a while).