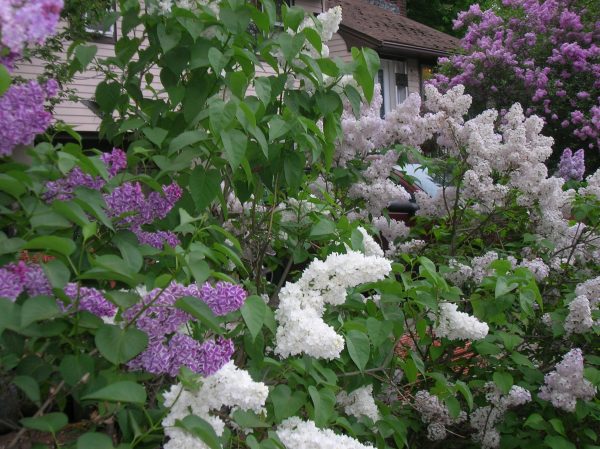 These are actually 2015 pics, but right now those lilacs are almost as gloriously profuse, and the irises which were sulking all through our very rainy March & April have all burst into bloom simultaneously. It makes the ugly reality that I'm gonna spend a lot of sweaty hours digging up & dividing those irises somewhat less daunting…
A month ago, the only color in our front yard was the defiant yellow of hardy daffodils and forsythia. Two months from now (Murphy the Trickster God willing) the color palette will have shifted again to shades of apricot, pink, and cream as the roses and daylilies come into bloom. My garden 'planning' mostly amounts to 'oooh this is a pretty plant, let's find a place to jam it in and see if it survives', so it's a nice surprise when the result actually seems… intentional!
I'm going to need all the inspiration I can get, because the first half-dozen mail-order tomatoes just arrived, and the other 16 are due on Monday or Tuesday. That means lugging home some three dozen 30qt sacks of potting mix (I can't lift larger bags, and there's no room to get a dumpload delivered) and a strenuous couple weeks' worth of hauling rootpouches and tomato ladders into place. Here's hoping the resulting crop is less discouraging than last year's near-total failure.
What's going on in your garden(s), this week?