Trump sounds not at all like an unhinged loon in this tweet from earlier today, right?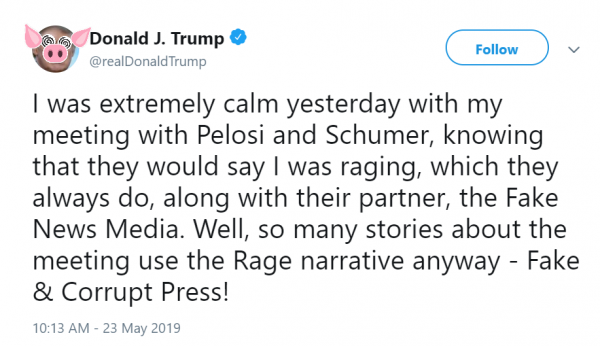 Pelosi gave a different account of the meeting that preceded the ranty, rambling Rose Garden rage-fest:
House Speaker Nancy Pelosi (D-CA) said Thursday at her press conference that she watched President Donald Trump "pound on the table" and "walk out the door" during the infrastructure meeting planned for Wednesday.

"Next time, have the TV cameras in there while I have my say," she said. "That didn't work for him either. Now this time, another temper tantrum."

"Again, I pray for the president of the United States," she added. "I wish that his family or his administration or his staff would have an intervention for the good of the country."
Emphasis mine. Say whatever you will about Pelosi, but she knows how to push Rage Grandpa's buttons.
At the same meeting, Pelosi also snubbed Kellyanne Conway so savagely that the chief purveyor of lies for Pussy Grabore ransacked her tattered bag of stock retorts and lamely implied Pelosi preferred to talk to the boss rather than the underling because Pelosi is sexist!
"I knew he was looking for a way out," Pelosi said in response to Trump's walkout, according to the Times. "We were expecting this."

Conway then asked Pelosi if she had "a direct response" to Trump's complaints.

The House Speaker told Conway that she was going to respond to the President, not his staff, the Times reported.

"Really great," Conway shot back. "That's really pro-woman of you."
Conway whined about the snub some more this morning on Fox News:
"She treats me like I'm either her maid or her driver or her pilot or her makeup artist driver, and I'm not."

Conway added that the House speaker is "not very pro-woman. She's pro-some women."
Asked about that comment today, Pelosi said:
"I'm not going to talk about her," Pelosi said. "I responded as the speaker of the House to the President of the United States. Other conversations people want to have among themselves is up to them."
In other words, "What part of co-equal do you not understand, you stringy-haired, rodent-faced motherfucker?"
She's a dark horse, our Nancy.