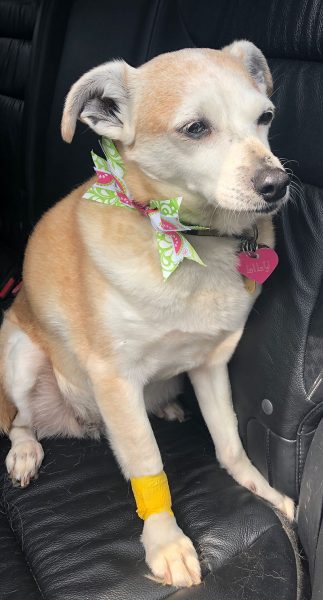 Lily and I went to PVSEC, and another stellar report- all bloodwork was fine, she got her vincristine therapy, and she was certified adorable by the staff. Good girl, Lily!
In other news, after I dropped her off, I went to Costco, and as I was pulling in the parking lot realized it was the Saturday before Memorial Day (the last time I was there was a day or two before Easter), and of course it was a colossal clusterfuck. As I was trying to find a spot when Devon texted me that my father had fallen and broken his hip. I was on the phone with my mom, waiting to pull into a spot with my blinker on, and some lady tried to "steal" my space, and I honked and gave her the finger, and was completely out of line (she couldn't see around the car pulling out and had no idea I was there). Decided then I needed to sit in the car and pull my shit together before going in or I was going to be in a viral youtube video or on the nightly news or both. Went in, hunted down the lady I was rude to, apologized, basically told her I just dropped my dog off for chemo and was on the phone with my mom because my dad had fallen and broken his hip and that everyone in the parking lot was irritating me and I just took it out on her and that wasn't right. She was very nice and we chatted for a minute and went on about our business. I felt better afterward because there was no reason for me to put someone else in a sour mood because I'm an immature fuck who can't handle his emotions.
At any rate, dad is at the hospital and just got the news that it was broken and he will need surgery tomorrow. We don't know if it will be a full replacement or what, yet, but he is in a lot of pain and just generally pissed off. I mean, he has had a shit year. Apparently he and the boys were working in the yard, and he went into the garage to do something and just lost his balance, and twisted so he would not brain himself on things and landed on his hip. Thank goodness the boys were there because who knows how long he would have been there before mom found out- she's used to him just disappearing into the yard for hours on end.
So that's my day, and it is only 3 o'clock. Gonna take a nap and then gather up stuff to take to the hospital for dad (his tablet and some toiletries). I just feel bad for him because this is going to suck. At least in the winter he would not want to be outside, but now he has to recover during the best part of the year.